Loading...


Ohio



Monday, January 27, 2014




Gov. Kasich calls for more calamity days for Ohio schools




Ohio's governer says a change in the law could keep students from traveling in unsafe conditions




by WKSU's STATEHOUSE CORRESPONDENT JO INGLES



Reporter
Jo Ingles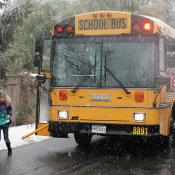 Gov. Kasich says adding more calamity days will keep Ohio's kids from unsafe commutes.
Courtesy of Woodley Wonderworks
Download (WKSU Only)
In The Region:
Gov. Kasich is calling on Ohio lawmakers to give the state's schools extra snow days this year. John Charlton of the Ohio Department of Education explains the governor thinks many schools have exhausted the five calamity days now allowed by law.
"We don't want school districts feeling like they have to get the kids to schools, putting them in unsafe conditions on school buses," Charlton says. "We want to make sure their safety is the first thing thought of. So I think that what Gov.Kasich is trying to do is to make sure we are giving the superintendents, the decision makers at the local school districts the ability to say 'You know what? It is OK to take more than five days off.'"
Charlton says the governor wants to work with lawmakers to find a one-time solution that keeps students safe and gives them the instruction time they need.
---
---
---
Stories with Recent Comments