Loading...



From WKYC.COM / TV 3
Get the latest school closings and delays


Funding for WKSU is made possible in part through support from the following businesses and organizations.
---
For more information on how your company or organization can support WKSU, download the WKSU Media Kit.

(WKSU Media Kit


)
---

Education



Tuesday, January 28, 2014




Ohio auditor pushes criminal charges in Columbus school data scandal




State Auditor Yost found thousands of instances of grade changing and other data manipulation to make the district's performance look better




Story by

STEVE BROWN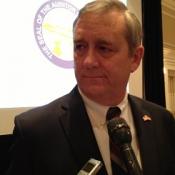 Auditor David Yost released the results of Columbus schools' data-scrubbing audit this morning.
Courtesy of FILE PHOTO
Download (WKSU Only)
In The Region:
Ohio Auditor Dave Yost says he'll be disappointed if his office's investigation into Columbus City Schools does not result in criminal charges against school administrators. Yost's audit of so-called "data scrubbing" in the state's largest public school district was especially tough on former data chief, Steve Tankovich, who resigned last year. Yost says his office found thousands of instances of grades changed from Fs to Ds, and district employees retroactively withdrawing students who performed poorly on standardized tests.
"This is a time for tears and sadness and anger, and I hope that those things motivate the decision-makers at the local and state level to take corrective action."
Asked if his office interviewed former Superintendent Gene Harris, Yost said he's "constrained" by federal laws, and that other offices are involved. The 18-month investigation covered the 2010-11 school year.
Yost found similar problems in six other school districts in the state, including Cleveland, but none of those was as extensive as Columbus.
Page Options

Print this page

E-Mail this page / Send mp3

Share on Facebook
---
---
Stories with Recent Comments