Loading...


Government and Politics



Tuesday, January 28, 2014




Bitter cold may affect Cuyahoga County homeless shelters' budgets




Longer hours and spillover crowds are putting on the pressure, but shelters say they'll welcome all




Story by

KELSEY LEYVA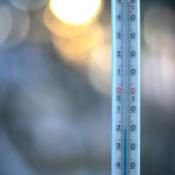 The sub-zero-degree temperatures have resulted in homeless shelters extending their hours and opening overflow facilities.
Courtesy of Antti T. Nissinen
Download (WKSU Only)
In The Region:
The bitter cold in Northeast Ohio is putting a strain on homeless shelters' budgets. Shelters in Cuyahoga County are staying open 24 hours a day until Thursday. Normally, they're open only at night.

Brian Davis with the Northeast Ohio Coalition for the Homeless says shelters may have to request supplemental assistance from Cuyahoga County. Davis says the shelters are also handling more people than usual.
"The big shelters, the men's shelter and the women's shelter, also have to operate an overflow system.

So we've had three overflow shelters operational in the last week because of the large number of people who show up and seek shelter during these cold emergencies."

Davis says the coalition also tries to help those who refuse to enter the shelters by checking on them, making sure they're bundled up and providing them with hand warmers.
---
---
Stories with Recent Comments