Loading...


Government and Politics



Wednesday, January 29, 2014




Cleveland Rep. Fudge says the farm bill staved off much deeper cuts




Head of the Congressional Black Caucus says the attack on food stamps was misrepresented




Story by

MARK URYCKI AND M.L. SCHULTZE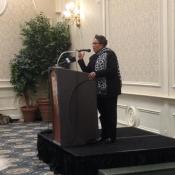 Congresswoman Marcia Fudge says the food stamp argument was fraudulent, but the compromise farm bill is the best that could be done.
Courtesy of M.L. SCHULTZE
Download (WKSU Only)
In The Region:
Northeast Ohio Congresswoman Marcia Fudge was among the 89 Democrats who voted to pass the Farm Bill in the House this Morning, despite her reservations about $8.6 billion it cuts in food stamps over 10 years. In a speech to the Akron Press Club last week, Fudge said the food stamp program has been misrepresented by Republicans and others who wanted cuts as deep as $40 billion.
"Fraud and abuse is less than 2 percent of all of the resources of food stamp programs in this country. And that 80-plus percent of all the people on food stamsp are either children, the disable, or senior citizens or under the age of 15. So who is fraudulent?"
But Fudge was a member of the Agriculture Committee assigned to come up with a compromise on the farm bill. And, after the vote, she said the bill was a best-case deal that prevents "devastating cuts" to food stamps. She says the bill – which is expected to easily pass the Senate – also improves nutrition programs in low-income areas and sets "sound agricultural policies" for farmers and ranchers.
---
---
Stories with Recent Comments