Loading...



From WKYC.COM / TV 3
Get the latest school closings and delays


Funding for WKSU is made possible in part through support from the following businesses and organizations.
---
For more information on how your company or organization can support WKSU, download the WKSU Media Kit.

(WKSU Media Kit


)
---

Environment



Wednesday, January 29, 2014




Threatened lawsuit stalls wind turbine plans along Lake Erie




National Guard pulls back after birders protest




Story by

LYNDSEY SCHLEY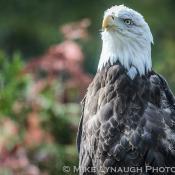 Birders maintain the American bald eagle could be among the birds threatened by the turbine.
Courtesy of Akron Zoo
Download (WKSU Only)
In The Region:
Plans to build a wind turbine at Camp Perry Air National Guard Station on Lake Erie have been halted after two bird conservancy groups threatened to sue. The American Bird Conservancy had maintained the National Guard did not follow procedures to measure the environmental impact of the project. Spokesman Michael Hutchins says the turbine would be in the path of species such as Kirtland's warbler, the piping plover and the bald eagle and would violate the Endangered Species Act.
"Wind facilities are going to kill some birds. For wind, where you put these things is very important and we don't think the south shore of Lake Erie is a good place to put wind because this is a major migratory corridor for birds coming up from the neotropics and going up into the boreal forests of Canada."
Hutchins says nearly 600,000 birds and 90,000 bats died in 2012 because of wind turbines. Bird deaths are expected to increase to 1.4 million a year in 2030 if America reaches its goal of 20 percent of energy production coming from wind.
Page Options

Print this page

E-Mail this page / Send mp3

Share on Facebook
---
---
Stories with Recent Comments