May is designated as Ohio's official "Better Hearing and Speech Month." Labor Day kicks off "Ohio Coal Miners Week" and July 9th is known as "Traumatic Brain Injury Awareness Day."
These are all designations made official by Ohio lawmakers through pieces of legislation known as "naming bills."
During the 129th General Assembly, which ran from 2011 through 2012, legislators introduced more than 50 naming bills. One year into the 130th General Assembly and lawmakers have already introduced more than 35 naming bills.
This means the House and Senate are used to hearing something like this from the clerks.
"To enact sections of the revised code to designate November as Complex Regional Pain Syndrome Awareness Month. To designate October as Dyslexia Awareness Month. To designate the last day of February as Rare Disease Day. To designate March as Multiple System Atrophy Awareness Month ..."

Too much of a sometimes nice thing
One legislator who believes the amount of naming bills is getting out of hand.
"It really came to a point where I thought it was getting rather silly," says Republican Rep. Matt Lynch of Geauga County.
Last session, he started to notice the naming bills piling up and decided that he would no longer support them.
"I began to vote against these to emphasize that it really was taking a great deal of time and really wasting money because of the time it takes and taking attention away from important legislative work."
Bipartisan love
Naming bills are not tied to one party; both Democrats and Republicans introduce them. And Lynch has an idea of why so many are popping up.
"Members love to do things that they think reflect well on them, and so they bring these bills forward and no one generally has the nerve to say, 'Why are we bothering?'"
Lynch says he makes exceptions for naming bills that would help boost an industry and for other bills that honor fallen soldiers and deceased public figures by naming a portion of a highway after them.
What Lynch will not vote for are bills that only recognize specific, sparse groups that seem to only help a very small portion of the state.
Raising awareness where it's needed
But Democratic Sen.Shirley Smith of Cleveland argues that the obscurity of diseases and causes is exactly why lawmakers should boost recognition.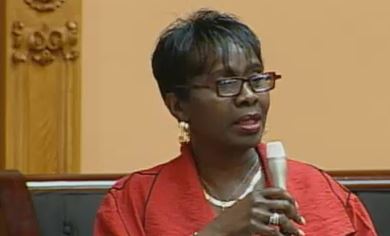 "When you talk about cancer, when you talk about kidney disease, when you talk about those types of things, they're prominent in our daily lives. But when you talk about craniofacial disease, most people have never heard of it. So if you don't educate people about it, you don't raise awareness."
Smith sponsored a bill to make Oct. 13 Metastatic Breast Cancer Awareness Day, which Gov. John Kasich signed into law last year. The senator says naming bills don't actually take up too much time or cost a lot of money, and Smith believes the outcome is worth it.
"When you talk about a disease that effects the entire body and we can do research and development medicine that can help prevent or eliminate that disease, I think it's just wonderful to bring that kind of attention to it ... so we can raise money for it to get rid of that disease."
This week alone, the full House and Senate are scheduled to vote on naming bills including one to make the second Tuesday of April "Ohio Internship and Co-Op Appreciation Day," and another to make the first Friday of May "Prescription Drug Abuse Awareness and Education Day."