Loading...


Government and Politics



Thursday, January 30, 2014




Ex-Cleveland Council President Sweeney makes a run at the Statehouse




Says his priority would be getting more state money back to the district




Story by

M.L. SCHULTZE AND KEVIN NIEDERMIER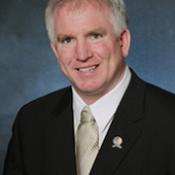 Former Cleveland Council President Martin Sweeney is running for the Statehouse.
Download (WKSU Only)
In The Region:
Cleveland council's long-time president, Martin Sweeney, is running for state representative. Sweeney is running for the 14th District, which includes southwest Cleveland. The current representative, Mike Foley, is term limited this year. Sweeney says his first priority, if elected, would be clear.
"Bringing the resources back to our cities in the 14th District because in the past, I've seen many dollars go to Columbus and not as much come back as we put in. And the cuts in the local government fund I can see firsthand have been devastating to the city of Cleveland, but also in the municipalities of Middleburgh Heights, Brooklyn, Parma Heights and Brookpark. Everyone has seen a decrease, some in the 30 percent range."
Sweeney was council president until last year. He's in his fifth term as a council member, though he retired earlier this month, then was sworn in a few days later, allowing him to collect his pension and his $76,000 council salary.
Two other Democrats have taken out petitions to run in the May primary. Tuesday is the filing deadline.
---
---
Stories with Recent Comments