Loading...


Government and Politics



Thursday, January 30, 2014




Pushing for his own re-election, Husted touts changes in voting procedures




Secretary of State says he's helped make Ohio a state where it's easier to vote and harder to cheat




by WKSU's ANDY CHOW



Reporter
Andy Chow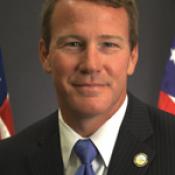 Secretary Jon Husted says he wants to be the first to know if anyone is denied the opportunity to vote so he can figure out how to help them cast a ballot.
Courtesy of Ohio Secretary of State
Download (WKSU Only)
In The Region:
A liberal strategy group is forming to help Democrats win their bids to become secretaries of state around the country. And special attention will be focused on Ohio's race. Secretary of State Jon Husted is also getting national attention after a Huffington Post article accused Ohio Republicans of making tactical efforts in the interest of voter suppression. That article was written by a Cincinnati City Council member. Husted appeared at an Associated Press forum Thursday and defended his work to improve elections.
"If there is a single person that wanted to vote but was denied that opportunity—I'm the first person that wants to know their name and figure out how we can help them and make sure that they can cast a ballot if they had trouble. To this day, I'm hearing a lot of rhetoric, but I have not been presented the name of a single voter who was denied that opportunity."

Husted calls the rhetoric "reckless," and says he has helped make Ohio a state where it's easier to vote and harder to cheat.
---
---
---
Stories with Recent Comments