Loading...


Ohio



Thursday, January 30, 2014




Tea Party says it won't challenge Kasich in May primary




Portage County leader Tom Zawistowski says campaign is about character assassination, not issues




by WKSU's STATEHOUSE BUREAU CHIEF KAREN KASLER



Reporter
Karen Kasler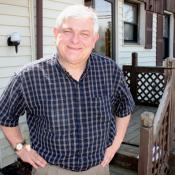 Tom Zawistowski, head of the Portage County Tea Party, says conservative support for Gov. John Kasich is waning as Kasich continues to push for Medicaid expansion
Courtesy of Jeff St. Clair
Download (WKSU Only)
In The Region:
It appears that Gov. John Kasich will not have an opponent in the May Republican primary. Statehouse correspondent Karen Kasler reports.

Tea Party leader Tom Zawistowski says there's a big reason there won't be a challenger to Kasich on the spring ballot.

"The candidates themselves are put under such scrutiny by the Republican Party. It's not about your ideas; it's about character assassination. And how many people want to do that?"

Tea Party activists have been angry with Kasich over Medicaid expansion and other issues. Asked if he has a problem with his base, the governor said that while some conservatives might be upset with him, he's still one of them.

"I have a right to shape what conservative philosophy means. I have a right to move forward with programs that I think maybe in the short term may not be that popular, but in the long term may yield an awful lot of good."

Zawistowski says Libertarian candidate Charlie Earl will be invited to speak before Tea Party groups, but that he hasn't been endorsed.
---
---
---
Stories with Recent Comments