Loading...


Ohio



Thursday, January 30, 2014




Fireworks when leaders of Ohio GOP and Democrats face off




Chris Redfern and Matt Borges debate women's issues, job numbers




by WKSU's STATEHOUSE CORRESPONDENT JO INGLES



Reporter
Jo Ingles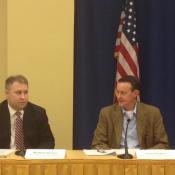 GOP Chief Matt Borges and his Democratic counterpart, Chris Redfern.
Courtesy of JO INGLES
Download (WKSU Only)
In The Region:
The leaders of Ohio's two major political parties are preparing for a fight this fall. Ohio Public Radio's Jo Ingles reports that was evident when the head of the Ohio Republican and Democratic Parties faced off at a media event.
There are usually fireworks when Ohio Republican Party Chairman Matt Borges and Ohio Democratic Party Chairman Chris Redfern face reporters. And that was the case when the two squared off against each other at the Associated Press's Legislative conference.

Said Redfern: "It strikes me how aggressive the chairman is toward others in his party, especially when the candidate happens to be a woman."

Replied Borges: "Oh, stop it."

Redfern hammered on Borges over women's issues, including laws restricting money for birth control through Planned Parenthood and the lack of the Republican party's support for equal pay for women. Borges punched right back.

"This notion that we don't support female candidates is absurd and it's wrong. ... The truth of the matter is that job growth is up in this state. When Chairman Redfern went on the now somewhat infamous appearance on Karen Kasler's program and said, 'Unemployment has not changed since 2010,' he was lying. ... Unemployment has dropped about three points since then. And that's the record that we are going to be able to run on."

Of course, Redfern said Republicans are the ones who have the numbers wrong.

"We are No. 45 in new job growth and the speaker of this House, the president of this (Senate,) the chairman of this party, the governor of this party can dismiss it out of hand but the numbers don't lie. One-thousand Ohioans out of work at Ormet, and this governor didn't even pick up the phone and call the CEO."

GOP back-burners right-to-work for now?
Redfern said Republicans are trying to lay low right now on certain issues in order to get re-elected. Take the anti-labor issue -- Right to Work -- for example. Gov. Kasich had said earlier in the day that it wasn't on his agenda. But Redfern accused Kasich of taking a page out of Michigan Gov. Rick Snyder's playbook, pointing out the governor up north said the same exact words, only to enact the controversial labor law once he was in office.

"Make no mistake. If John Kasich is re-elected -- and I have my doubts -- Right to Work will pass in the state of Ohio."

Borges fired back, "When Republican leadership tells you it's not on their agenda, it's not because of any nefarious attempt to dodge an issue, it's because it's not on their agenda."

Borges touts Kasich's leadership
Borges said Republican Gov. Kasich is poised to win re-election, noting that he had $4 million in his campaign war chest at the end of his last campaign. Borges added that Kasich has improved Ohio's economy to the point that he's being heralded nationally as a strong leader.

"When voters are asked who they give credit to, 93 percent give credit for turning the economy around to John Kasich. So it's certainly a reflection on what the real world looks at in terms of what John Kasich has done and his potential plans for running for president.

When Borges was asked whether he's talked to Kasich about those plans, the chairman said he hasn't personally and the party hasn't either.

"I know that no one in our building is looking beyond 2014."

Borges said the party is going to get through the election and see where life leads after that.
---
---
---
Stories with Recent Comments