Loading...


Government and Politics



Friday, January 31, 2014




Camp Ravenna is now one of four potential missile defense sites




Defense Department nixes site in Vermont this week, begins 2-year study of Ravenna and other sites in Maine, Michigan upstate New York for the first missile defense site in the eastern U.S.


by WKSU's KABIR BHATIA


Reporter
Kabir Bhatia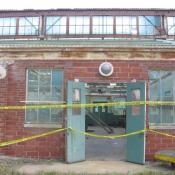 During WWII, women made ammunition in this plant at the Ravenna site; today it's used for National Guard training
Courtesy of Julie Grant
Download (WKSU Only)
In The Region:
A National Guard training facility in Northeast Ohio has survived the first round of eliminations for a missile defense site – the first in the eastern United States.

The Camp Ravenna Joint Military Training Center -- formerly known as the Ravenna Arsenal -- is one of four sites in the country that the Department of Defense is considering for a ground-based system designed to intercept ballistic missiles.

About two weeks ago, Democratic Sen. Sherrod Brown said the camp will get more than $5 million in federal funds under the new budget deal. The funds are slated for water and sewer lines and other infrastructure improvements.

Ohio's Republican Senator, Rob Portman, says the camp's 21,000 acres can accommodate both National Guard training and the missile site. It would be the only site in the U.S. outside of Alaska and California.

The other sites under consideration are in Michigan, Maine and upstate New York. This week, the Defense Department crossed a site in Vermont off the list. It will study all four remaining sites for at least two years, including environmental impact studies, before making a decision.
---
---
---
Stories with Recent Comments