Hopkins Airport Director Ricky Smith says losing the hub hurts, but it doesn't spell the facility's demise. The fate of the Cleveland hub has been in question for years. And airlines have closed hubs at most other mid-sized airports due to rising costs and fewer passengers.
Meanwhile, Smith says Hopkins has made improvements that have positioned it well to convert from a regional hub to a stronger local airport. Nearly a billion dollars have been poured into new runways that reduce flight delays and into increased customer service. And Smith says losing a hub increases competition, which also benefits passengers.
No hub can mean cheaper air fare

"If you look at the experience of other hubs that have been eliminated, in most cases there has been more competition among carriers and a reduction in fares. Air fares in this community over the last two to three years have spiked enormously. We should begin to see some relaxation of those hikes, and that will certainly be a plus to this community."
Smith says the United flight reductions, mostly regional jets, represent only about 8 percent of the airport's total take-offs and landings and will be spaced out over the next five months. The search is underway for carriers at Hopkins to pick up those flights, but Smith does not expect any airline to ever open a hub in Cleveland again.

Ten years ago, U.S. Airways pulled its hub out of Pittsburgh International Airport, and most of the flights that were cut have not been restored.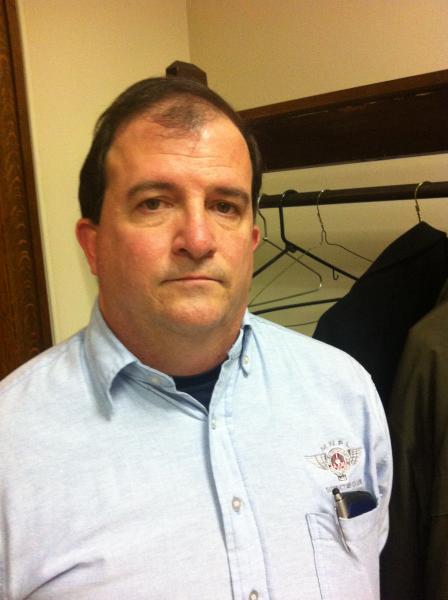 Bill Pizzuli is with the United Field Service Union, which represents the airline workers affected by the hub closure. He believes the shutdown will ripple across Hopkins.
Union officials expect many more jobs to be lost with hub closing
"We have ticket agents and gate agents that'll be affected and all of our ramp personnel. But on top of the United employees, you're going to have the food vendors, service workers, janitorial, the wheelchair runners. I think the number is going to double and maybe even triple.
Will United help relocate some of its displace employees from Cleveland to other United facilities?
"We are covered under a contract and do have provisions in place for people to relocate if their seniority allows that, and we will do everything we can to help those people relocate. But the crux of the whole thing is: Relocating for some is not an option, and for everybody, it's disruptive for their families and devastating."
Getting to work becomes a new concern
And, as the regional flight reductions continue over the next few months, some United employees not slated to lose their jobs still wonder how they'll be affected. Nicole Washington-Fears is a regional flight attendant at Cleveland's United facility.
"The question is whether or not we'll be able to get back into the city because of the reduction in flights to come back home at the end of the day because we'll be considered commuters. We're prepared, we have contractual language on it. But with these cuts we're not sure there'll be a plane to get us back into the city."
What is known is that United will keep its maintenance facility in Cleveland and continue regular service to at least 19 destinations around the country.

Cleveland Mayor Frank Jackson says he's disappointed in United's decision to close the hub, but it's not a complete surprise. He says the airline has been complaining for years about the hub losing millions of dollars. And the possibility of a shutdown is why the city has worked to make Hopkins attractive to other airlines and local passengers.

Jackson says he doesn't believe United is lying about its financial losses from the hub. But he is asking Ohio's attorney general to audit the airline's performance agreement with the city to ensure nothing has been overlooked.