Loading...


Environment



Tuesday, February 4, 2014




FirstEnergy prepares for another severe winter storm




The company has meteorologists on staff and crew members standing by




Story by

KELSEY LEYVA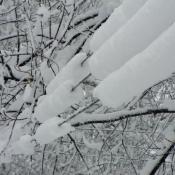 Mark Durbin with FirstEnergy says crews are standing by in case the storm causes power outages.
Courtesy of Aric McKeown (Creative Commons)
Download (WKSU Only)
In The Region:
The National Weather Service predicts much of Northeast Ohio will get 4 to 8 new inches of snow tonight and 2 to 4 inches tomorrow. Akron-based FirstEnergy says it has meteorologists tracking the storm and crews standing by for repairs.

Spokesman Mark Durbin says during severe weather, the company implements what it calls "16 and eight."
"The crews would work 16 hours, then they would take a mandatory eight hours of rest and then they would come back and work" Durbin says. "And then they would keep doing that until we take care of all of our outages. That's pretty much standard operating procedure, but the reason we do that is that's the safe way to make the repairs."

So far, neither FirstEnergy nor AEP are reporting anything but a handful of scattered outages around the state.
---
---
Stories with Recent Comments