Loading...


Economy and Business



Tuesday, February 4, 2014




Lockheed workers may follow jobs out of Akron




For many, layoff notices are followed with invitations to work elsewhere


by WKSU's TIM RUDELL


Reporter
Tim Rudell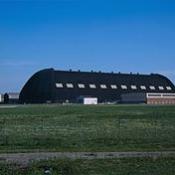 Akron's Airdock was built in 1929 and was the construction facility for some of the most famous airships in history
Courtesy of Wikipedia
Download (WKSU Only)
In The Region:
As Lockheed Martin pulls hundreds of jobs out of northeast Ohio this year and next, hundreds of area workers may be going along. For others, the search is on for new jobs here. WKSU's Tim Rudell has more on what's being described as a re-deployment of the defense contractor's workforce.
Of the 500 or so employees whose jobs are being eliminated at Lockheed Martin in Akron, about 380 will be offered positions at other company sites. Lockheed Martin spokesman Keith Little told WKSU layoffs will be phased in over 18 months starting this summer; and that letters to employees who will be offered new jobs will be sent months in advance — with some going out now.

Local help
Richard Rebadow of the Greater Akron Chamber of Commerce says that's good for the employees who get transfers. But for those who don't or who turn down a move with Lockheed Martin, the fact that they are in a high-skill category of workers will help in finding them something new here.

"We have been working with companies that have expressed interest in talent from Lockheed should that become available. And once we know, working with Lockheed, with those individuals we'll start that process."

Lockheed Martin filed a report of its Akron plans with the Ohio Department of Job & Family Services as required by the Federal Worker Adjustment Retraining Notification Act.
---
Related WKSU Stories

Owner of the Lockheed property says manufacturing space is at a premium
Monday, November 18, 2013

Lockheed's move out of Akron: A story of shock and sequester
Friday, November 15, 2013

Congressman blames Lockheed cuts on federal budget
Friday, November 15, 2013

Lockheed closure catches state officials off guard
Friday, November 15, 2013

Lockheed plans to shut down Akron plant, lay off 500 people
Thursday, November 14, 2013

Lockheed Martin to close Akron facility, 500 jobs impacted
Thursday, November 14, 2013

Akron Mayor Plusquellic says Akron's Lockheed Martin facility was a profit center
Thursday, November 14, 2013

Lockheed blames the sequester for a potential shutdown of its Akron facility
Monday, November 4, 2013
---
---
---
Stories with Recent Comments