Loading...



From WKYC.COM / TV 3
Get the latest school closings and delays


Funding for WKSU is made possible in part through support from the following businesses and organizations.
---
For more information on how your company or organization can support WKSU, download the WKSU Media Kit.

(WKSU Media Kit


)
---

Environment



Wednesday, February 5, 2014




Nesting eagles lead to closure of parts of Cuyahoga Valley National Park




Park areas near Brecksville will close until August to protect birds




Story by

LYNDSEY SCHLEY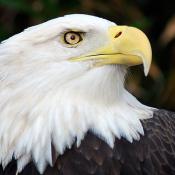 Bald eagles are making a comeback in the Cuyahoga Valley.
Courtesy of Pen Waggener
Download (WKSU Only)
In The Region:
The National Park Service is closing parts of the Cuyahoga Valley National Park today to protect a pair of nesting bald eagles. The park will close parts of the Pinery Narrows area near Brecksville, Ohio until July 31. The Ohio & Erie Canal Towpath Trail will remain open. A spokesperson for the park says it is important to keep park-goers from disturbing the birds. Eagles lay their eggs in late winter and the eggs require constant attention from their parents to survive the cold. The eagles successfully raised two eaglets in the park last year.
Page Options

Print this page

E-Mail this page / Send mp3

Share on Facebook
---
---
Stories with Recent Comments