Loading...


Economy and Business



Wednesday, February 5, 2014




Second Northeast Ohio Steelworkers' Union files unfair labor suit




Mayfield-based PSC Metals and Aurora-based Rotek are both involved in labor disputes with USW workers


by WKSU's KABIR BHATIA


Reporter
Kabir Bhatia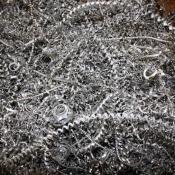 About 250 workers are either on strike, or locked out -- depending on who you ask
Courtesy of WKSU
Download (WKSU Only)
In The Region:
Workers at a Northeast Ohio company are on the picket line this week after being locked out. It's the second case of employees embroiled in contract disputes filing suit with the National Labor Relations Board. WKSU's Kabir Bhatia reports.
Mayfield-based auto scrapper PSC Metals has locked out more than 52 workers at its Canton plant. The dispute is over healthcare, and the United Steelworkers Union has filed an unfair labor practice suit with the labor board.

A union official tells trade journal AMM that the company will use management and non-union employees to keep things running. PSC could not be reached for comment.

PSC has already had two lockouts this year: one in Cleveland over the weekend, and one last month in Wooster. Both of those have been resolved.

Meanwhile, about 180 United Steelworkers at Aurora bearing maker Rotek have been on the picket line for more than a year, saying the company imposed its last, best contract offer and forced a lockout.

An usual offer could end more that dispute, as the union offered last month to go back to work while negotiations continue.

Spokeswoman Kellie Harris says the offer leaves open several issues, and the company is going through the process of deciding how to respond.

"I think right now, everyone is focused on how we resolve this as quickly as possible. From the beginning, Rotek has asserted [that] this is an economic strike. We continue to feel that way."

The two sides are scheduled for a hearing before the labor board in March. Sticking points include wages and holiday pay.
---
---
---
Stories with Recent Comments