Loading...



From WKYC.COM / TV 3
Get the latest school closings and delays


Funding for WKSU is made possible in part through support from the following businesses and organizations.
---
For more information on how your company or organization can support WKSU, download the WKSU Media Kit.

(WKSU Media Kit


)
---

Education



Wednesday, February 5, 2014




University of Akron proposes suspending 55 degree programs




600 students in programs would be allowed to complete their degrees




Story by

LYNDSEY SCHLEY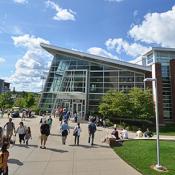 600 students are currently enrolled in the programs on the University of Akron's suspension list.
Courtesy of University of Akron
Download (WKSU Only)
In The Region:
The University of Akron is proposing to suspend 55 academic programs. President Luis Proenza will present the programs to the faculty senate for review Thursday. The programs range from urban studies to Spanish language education at all degree levels. Included on the list to be phased out are the Master's degree in Physics and Bachelor's degree in Geology. The proposal includes cutting the theatre studies program, which has led to student backlash. The 600 students in these programs will be allowed to complete their degrees "within a reasonable period of time." The 115 incoming students who applied for admission into these programs will be contacted to discuss similar courses within the university or at other colleges.
Page Options

Print this page

E-Mail this page / Send mp3

Share on Facebook
---
---
Stories with Recent Comments