Loading...



From WKYC.COM / TV 3
Get the latest school closings and delays


Funding for WKSU is made possible in part through support from the following businesses and organizations.
---
For more information on how your company or organization can support WKSU, download the WKSU Media Kit.

(WKSU Media Kit


)
---

Government and Politics



Monday, February 10, 2014




Great Lakes senators ask for discretionary spending for dredging




Engineers say more dredging will boost the economy and help the environment




Story by

LYNDSEY SCHLEY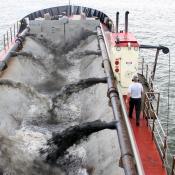 A dredging ship removes sediment at Rudee Inlet, Virgina.
Courtesy of U.S. Army Corps of Engineers Norfolk District
Download (WKSU Only)
In The Region:
Thirteen U.S. Senators including Ohio's Sherrod Brown are calling for the Army Corps of Engineers to use $40 million of discretionary spending to dredge the Great Lakes. Jan Miller of the Corps of Engineers' Great Lakes and Ohio River division says the region is competing against projects across the country for the funding and the Army Corps will not know how it will spend the money until early March. Miller says when ships travel in and out of harbors, they bring sediments with them.
"So dredging is simply the act of picking up the soil, which is at the bottom of these channels, and removing it so there's enough depth that ships do not run aground and we do not have accidents at these Great Lakes harbors," Miller says.
The Corps has not had the money to dredge all the areas that need it. Miller says this causes some ships to carry lighter loads to avoid running aground. Proper dredging could be an economic boost for the region.
Miller says some of the sediments removed by dredging are contaminated, so the process also improves water quality.
Page Options

Print this page

E-Mail this page / Send mp3

Share on Facebook
---
---
Stories with Recent Comments