"I'm a composer and martial artist. That's what I do. Oh, I guess I'm a teacher. I'm a professor, too."
Daniel McCarthy's a third-degree black belt Taekwondo master who chairs the composition and theory departments at the University of Akron School of Music.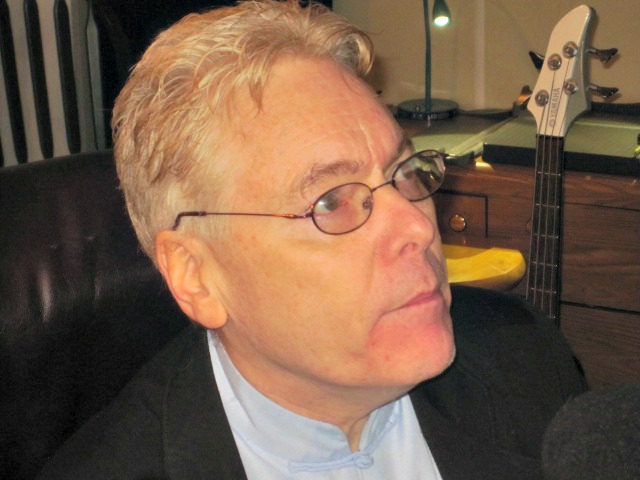 But today he's happy at home near Highland Square, in his basement studio.
"Down here, I write and record my dance music, pop stuff. Actually it's called funk. It's kind of a hybrid of rock and jazz. I just have a blast down here."
Hundreds of contemporary classical compositions
McCarthy has composed hundreds of serious pieces for symphony orchestra, symphonic band, and chamber groups.
"Rimbasly," an early composition for marimba and synthesizer, commissioned in 1989 by one of the world's leading percussion soloists, Michael Burritt of the Eastman School of Music, still sells about a hundred copies a year.
New Music Connoisseur magazine describes McCarthy's style as "contemporary in the best sense of the word." He's the founder of the American New Music Festival and the Midwest Composers' Forum.
Not an elitist, just a music lover
But if there's still elitism in classical music, don't blame Dan McCarthy.
He still values the music he turned on to as a teenager. That was in the late 60s.
"Beatles, Beach Boys, Jackson 5, all that stuff is happening. It was very important when I was in junior high to be cool, have your hair in your eyes, listen to the right kind of music, like what everybody else liked."
He did, while also listening to opera.
"I have been so in love with music since my first memory hearing my mom sing some Verdi."
His mother once studied at the Cleveland Institute of Music.
But growing up in Bay City, Michigan, it was his older brothers, now arts professionals, too, who first introduced him to Mahler, Stravinsky and Shostakovich.
"I'm not going to speak disparagingly about Bay City, but at the time it was kind of a cultural wasteland. And here I am being 9 and 10 and listening to Shostakovich and loving it and not knowing I was listening to anything that might be considered sophisticated. Led Zeppelin was exciting. Jimmy Paige's guitar solos were exciting. And Shostakovich was exciting. I didn't know the difference."

Interlochen changed his life
While still in junior high he won a scholarship to spend the summer at Michigan's Interlochen Arts Academy. He went on to attend high school at Interlochen.
The first day there he found a new love: jazz.
"The first thing that I heard was their jazz band with this great young drummer by the name of Peter Erskine, one of the great drummers of our time. And at that time he was 16. These were kids, a bunch of high school kids playing like professionals. And I just remember my jaw dropping to the floor. And I was hooked."
Hooked, too, on his favorite instrument.
"My original wish was to become a symphony trumpet player."
But John Lindenau, his teacher, now his best friend and the dedicatee of his trumpet concerto, forced him to confront a harsh reality.
"I didn't have the consistency to win an audition. When I went to college that became clear to me. However, I just wouldn't give up. I became quite interested in jazz, made myself a lead trumpet player, started playing jingles, couple film scores, lots of club dates, lots of record dates."
Living loud as a lead trumpet player
He discovered he had the right kind of ego to play lead trumpet.
"Fearless, macho man, even though I was kind of a runty, little, scrawny short guy, I had the short guy type of attitude. I was very feisty."
He was known for playing high and loud, and he did it with some of the best.
"The Temptations, Spinners, Four Tops, Donnie Iris, B.E. Taylor Group, Spyro Gyra, Kool and the Gang."
After graduating from Kent State University in 1978 with a degree in music theory, McCarthy spent four years playing pop, rock, funk and jazz and composing jingles for, among others, the Cleveland Indians, Burger King and Channel 43.
Life on the road not so glamorous
But by 1982 life in clubs, studios and motel rooms had lost its allure. He was constantly on the road, touring with his younger brother David in The McCarthy Band.
"And we starved to death and we drank ourselves to death. I was ready to give it all up when that was over with. And that was my last experience, which kind of catapulted me back into classical music."
He returned to his studies, earning a master's degree at the University of Akron and then his doctorate at Kent State.
There he made what he now considers the mistake of getting too academic in his compositions, too far away from his early pop culture influences.
Tough lesson but a good one
He learned a hard lesson at Kent from guest composer Sydney Hodkinson.
After listening to his 2nd string quartet, Hodkinson told McCarthy that he had technique, but no personal language.
"And he started to talk with me about my life, about Interlochen and how much I loved Northern Michigan. He didn't say anything for a while, and he looked at me and said, 'The next time I hear your music, I want to hear the music of the boy from Bay City."
Doc Severinsen must have heard that boy.
In awarding McCarthy's trumpet concerto what he called a close second place in his contest, Severinsen said it has "great melodies."
The 'Tao of Infinity's' world premier tonight in Tennessee will feature soloist Vincent DiMartino, former lead trumpet for Lionel Hampton and Chuck Mangione.
Composer Daniel McCarthy's been nominated for a Grammy, has won six Ohio Arts Council Excellence Awards among other national and international awards .
Doc will be in Knoxville to shake his hand

But this latest one means a lot to a boy from Bay City who grew up listening to The Tonight Show band.
"Doc Severinsen was a consummate artist. He was an improviser. He was a lead trumpet player, and he was a classical trumpet player. But the thing that really made me write this piece was Doc put in the guidelines: 'Must have a melody.' And I understood exactly what he was saying. He didn't want academic speak. He wanted someone who really knew how to write lyric melody. And I can do that."
Daniel McCarthy will be in the audience tomorrow night in Knoxville for his concerto's world premiere.