Cooking your way into the cockles of someone's heart takes both art and ardor.
Kent State University Executive Chef Michael Fiala had both on the Valentine's Day that changed his life.
"Fourteen years ago now, I made this picnic for a girl that I met in college here at Kent State. And after a few more years of prodding and some more good food, she finally decided that I was OK for her. And we got married about 12 years ago."
He spread a blanket on the floor of his apartment for that fateful feast. And the meal was nothing fancy.
"Being a gourmet chef you want to try to pull out all the stops, but I really think that keeping flavors light, earthy, a little spice, a little sweet, that's the way to go."
Keeping it simple but seductive
Chef Fiala's Valentine's picnic must have been like the sexy eating scene in the movie "Tom Jones," a little sloppy, but a lot of fun.
He got pears, a pomegranate, fresh crusty French bread, cheese, wine and chocolate at a gourmet grocery store.

"Finger foods, things that were easy to share. The juiciest, ripest, sweetest pear. The juice just practically dripped down your face and you had to lick your fingers."
And he added a little spice.
"A chiffonade of fresh basil. And basil to the Italians is a symbol of love."
To the Greeks, too. The Greek king Basilias, for whom the herb is named, was said to be a randy guy.
The chocolate Chef Fiala offered his future bride was also a good choice. The tryptophan in it relaxes the nerves and heightens the senses.
"As I'm talking about this it's like, 'Oh yeah, that's what our life together has been about.' It's enjoying those things at their peak of ripeness, at the freshest point. The wine that we had that day. Any time I drink a glass of Sauvignon Blanc, I remember that picnic. I remember what brought my wife and I together."
We hate to break his reverie, but tonight's the big night and we need more ideas.
Do try this at home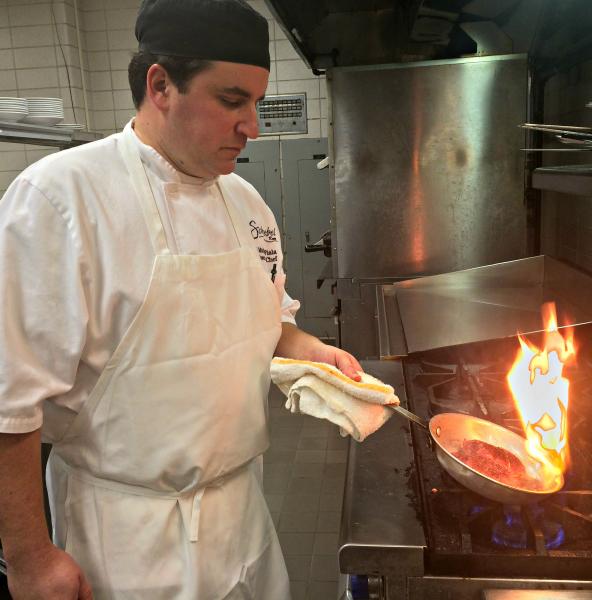 "So, I'm going to prepare a coffee and chili rub duck breast, with mushroom bread pudding, red wine demi-glace, and a little bit of pomegranate seeds for that quick burst of flavor.
He coats the duck breast with salt, pepper, fennel, cumin, fresh ground coffee, and chili powder. He lets that sit for about 20 minutes to infuse the flavor, and there's the rub, deliberately designed to spice things up.
"Especially the chili powder, the chipotle chili powder, " says the chef. "That kind of gets your endorphins running and makes your capillaries dilate and get a little sweat working. Oh my goodness!"
Once Chef Fiala collects himself, it doesn't take long to saute the duck in a little olive oil.
"We hear that nice, delicious sizzle so we know it's working. With duck breast you want to start with the skin side down. Get that fat against the heat and we'll render that until it's crispy."
Keeping it light but energizing
He chose duck because it's not as heavy as steak but equally contributory to strength and vigor.
"I'm looking to keep this light but rich in protein, depending on what our motives are for the evening. Our professional athletes need protein to give them that extra drive, that burst of energy. Hey, Valentine's Day's just another sporting event for some."
The duck breast looked brown when it entered the pan because of the coffee in the rub, but now the crispy skin turns a richer, deeper shade.
"Once we turn this over we're going to move it into the oven."
While the duck breast's finishing in the oven, the chef cuts a pomegranate in half. Why a pomegranate garnish for Valentine's Day?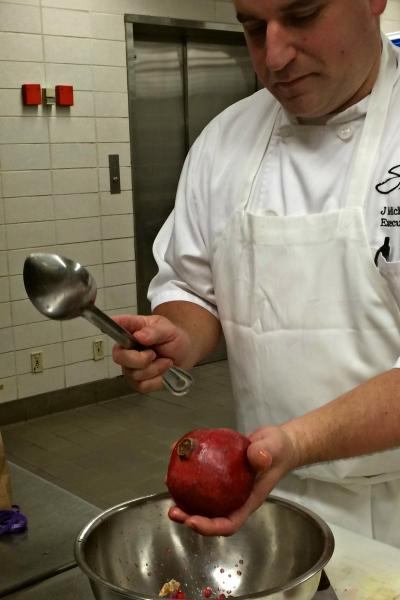 It was a symbol of fertility in ancient Persia and some believe it was the original forbidden fruit.
Chef Fiala made his French bread pudding with eggs, heavy cream, and shallots, and especially for Valentine's Day, he added roasted portabella mushrooms.
"To accentuate the earthiness."
The duck breasts emerge from the oven, pink on the inside. "And you want to just slice nice, even, biased slices to ensure tenderness and ease of palatability."
Looks matter
Presentation is equally important. They might not be everything when it comes to love, but in cooking, looks matter.
He makes a bed for the duck, spooning a rich demi-glace onto the plate. It's a roasted veal stock with carrots, onions celery, tomatoes and wine that's been simmering for days until its perfect for Valentine's Day.
"It turns into this wonderfully gelatinous, silky, voluptuous, robust sauce."
He fans the slices of duck against the bread pudding along with a few spears of asparagus, a vegetable thought since ancient times to be an aphrodisiac though there's little scientific basis for that belief.
Chef Fiala doesn't put much store in such claims. The romantic benefit of a great meal owes more, he thinks, to the loving care that goes into it. Especially when lovers strap on aprons and get into the kitchen together as he and his wife often do.
But again, he warns, keep it simple.
"Don't get bogged down in this huge big meal that leaves you with a pile of dishes at the end of the day. That's not what you want to be doing."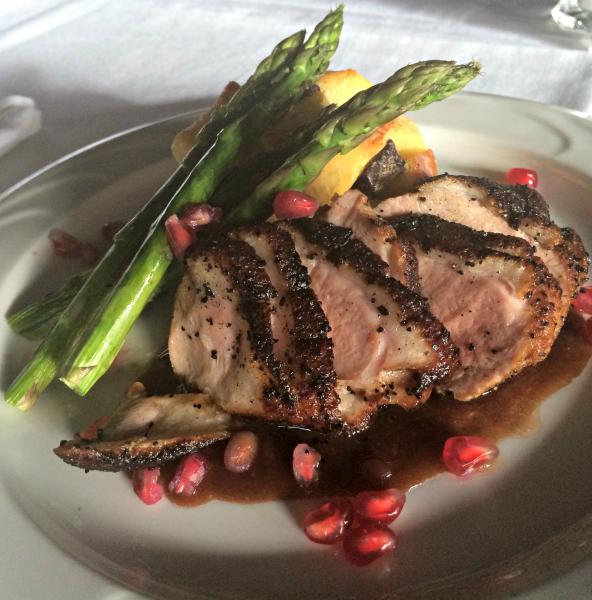 And that's this week's Quick Bite. Happy Valentine's Day!