Mayor Frank Jackson says there's no mystery in the changes, which were settled on Friday and announced at a hastily called press conference after word started to leak out.
Jackson says Safety Director Martin Flask told him last year he wanted a break.
"He didn't mind working seven days a week but eight days a week kind of was too much. So he let me know then he was looking at doing other things. So once that happened we began to think about what the division would look like, what the command staff would look like."
Moving up
What it will look like is:
Flask becoming a new advisor to the mayor – with his specific duties still to be set.
Chief Michael McGrath is moving into the safety director's spot.
And second-in-command Calvin Williams becoming chief.
Williams is the city's first African-American police chief named in 20 years. Jackson said diversity in the department is important, but insisted:
"Chief Williams is not chief because he's black. Chief Williams is chief because he's the best qualified person."
And Williams says the diversity goes well beyond him, including other promotions this week.
"I think our command staff is pretty diverse. As you can see behind me we added another member to that command staff. I think the chief, the mayor and the safety director have done a great job in ensuring that mix. And I think our guys work together very well."
Troubled times
Williams has been with the department for nearly 28 years, and part of his job has been community relations. He takes over the department at a time of heightened tension between it and the community – especially the minority community. Much of that is tied to the high-profile shooting of an unarmed black couple whom dozens of police cruisers chased throughout the city in November of 2012 before officers opened fire with 137 shots.
Ohio's attorney general called the incident was indicative of "systemic" failure in the department. Dozens of officers involved in the chase have been disciplined. The shootings are still under criminal investigation, and the U.S. Justice Department is reviewing Cleveland's use of force.
Williams says the department is following a careful protocol set up by McGrath.
"Some things are out of our control out of our hands, along the things that are going on with the county and the department of justice. We will get through the process, but we will do it the right way."
Here are the salaries for those affected by Monday's promotions:
Martin Flask: $121,965.79 (no change)
Safety Director Michale McGrath: $122,720.53 (a $10,000 increase)
Chief Calvin Williams: $119,436.94 (a $10,000 increase)
Assistant Chief Wayne Drummond: $110,562.71 (a $10,000 increase)
Commander Dennis Hill: $100,562.71 (set by the pay band for the position of commander; previous salary: $86,691.98)
Williams pledges to build more confidence and transparency into the department. He also says officer safety is a key priority.
While Mayor Jackson has expressed absolute confidence in Flask and now-Safety Director McGrath, the two police unions have battled the city over the firings, demotions and other discipline following the shootings.
Familiarity, but promised changes
Still Brian Betley of the Fraternal Order of Police – which represents brass in the department -- says management has its prerogatives.
"We didn't see eye to eye on everything, but for the most part, we were able to sit down and conquer anything we had to and move on."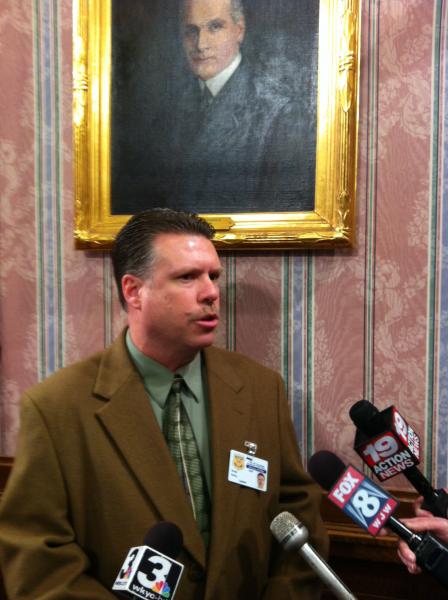 And he says there's something to be said for the familiarity.
"It isn't like somebody from a different organization or city or town… is coming in and taking over. We know the personalities. They know our personalities. And hopefully, the fop and the CPPA (Cleveland Police Patrolman's Association) as well could have some good working relationships moving forward."
Despite that familiarity, Mayor Jackson says he expects some things will change in the Cleveland Police Department, based on "new personalities and new kinds of directions."