Loading...


Government and Politics



Wednesday, February 12, 2014




Ohio winter OT, salt costs are digging into local road budgets for spring




Road repair will likely suffer for winter's expenses




Story by

LYNDSEY SCHLEY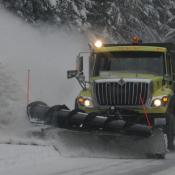 Overtime, fuel and salt are all digging into local road budgets.
Courtesy of Creative Commons Derrick Coetzee
Download (WKSU Only)
In The Region:
This winter's cold and snow are cutting deeply into local government road budgets in Northeast Ohio. Medina County Engineer Mike Salay says his department has accumulated more overtime hours so far this winter season than it did all of last year. It's also used more salt. He says the county tries to end each winter with a full barn of salt to start off the next season. But that won't happen this year.
"And of course, obviously, the more times we have to go out, which has been almost every day this year means more fuel consumption, more wear and tear on the vehicles and, of course, it happens to snow every weekend so the guys go out on the weekends and early in the mornings, so there's quite a bit of overtime involved, too.
Salay says clearing away this winter's snow will cut into the budget for spring road repair construction.
---
---
Stories with Recent Comments