CVS operates 800 in-store Minute-Clinics and plans to open another 150 this year. At a CVS store in Lakewood, Chief Medical Officer Dr. Nancy Gagliano says the Affordable Care Act promises to boost the company's business in health care.
"Selling cigarettes and tobacco products goes against everything we stand for within health care, a company that touches the lives of more than 5 million patients and customers every single day. "
Note that she refers to patients as well as customers.
E-cigarettes a new way to addiction?
The Cleveland Clinic has made headlines for refusing to employ people who smoke. The Clinic's Dr. Michael Roizen praises CVS for not selling electronic cigarettes to get people started.
"I'm really proud that CVS has decided – or at least is not now -- selling e-cigarettes because the leading group, the fastest growing group of e-cigarette users is 12-16 year olds. So that's a major health risk for us."
Sen. Brown says CVS is giving up more than a billion dollars in revenue from tobacco products. But he says the damage cigarettes do is huge.
"Some 480,000 people a year die from tobacco-related illnesses. And what does that mean? It means that the tobacco companies need to find 480,000 customers every year just to break even. They're targeting people who are 14,15,16 and 17 and sometimes even younger than that. And they're targeting future smokers in the developing world. "
It's the economy
The percentage of Ohioans who smoke --23.3 percent -- is above the national average of 18 percent. The Cleveland Clinic helped 1,600 of its employees quit, and Dr. Roizen says Ohio's high smoking rate may actually put the state at an economic disadvantage.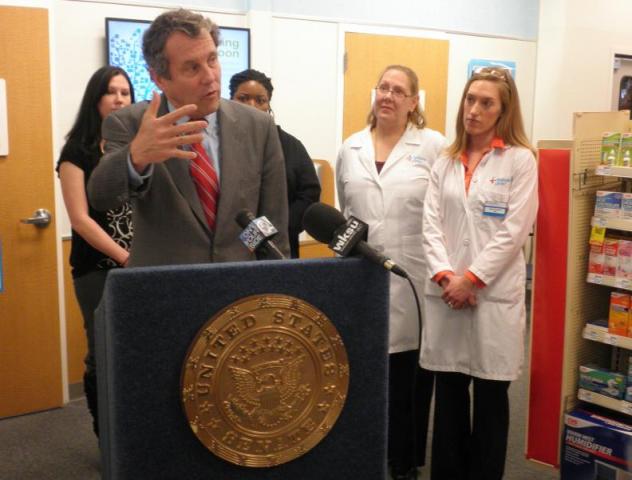 "Ohio can't be job competitive if we stay as the No 6 state in smoking and tobacco use."
While officials praised each other in one part of the Lakewood store, Matt Miller of Cleveland was buying cigarettes at the counter. He saya when CVS stops selling tobacco products, it won't really hamper him.
"Not that much. Usually tobacco products are readily available in the U.S."