Loading...


Sports



Tuesday, February 11, 2014




Cleveland Browns top two execs are gone; Farmer takes over as GM




Haslam says the goal is "to unify our team"


by WKSU's M.L. SCHULTZE


Web Editor
M.L. Schultze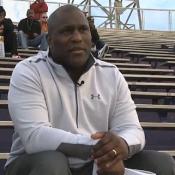 Ray Farmer is the Browns new GM, one of three men who will answer directly to owner Jimmy Haslam.
Download (WKSU Only)
In The Region:
The Cleveland Browns turn over at the top continues. Ray Farmer has been promoted to replace Mike Lombardi as GM, and CEO Joe Banner – who's been with the team for a year -- will be gone in two months. The team reported the overhaul this morning. The changes follow by a month the hiring of a new head coach, Mike Pettine, in what turned out to be the last head-coaching vacancy in the NFL. A statement by Browns owner Jimmy Haslam says the team "wanted to capitalize on the knowledge, experience and character we're fortunate to have in Ray Farmer. Ray has a tremendous football IQ, he's compelling, and he understands the types of players we need to acquire and develop in order to win in Cleveland."

WKSU sports commentator Terry Pluto says the timing is confusing:
"Usually when you fire a coach so quickly as the Browns did after the season, if you want to get rid of the front office, ... you do that all at once.The Browns allowed Joe Banner and Michael Lombardi to be two of the guys along with owner Jimmy Haslam to hire the new coach, Mike Pettine. And in fact Ray Farmer, the new general manager, was not in on the original coach hiring interviews."

The Browns statement also wishes Banner the best, and says it is grateful for Lombardi's efforts.
And it says the reason for the change "is to unify our team with one, unequivocal goal: Provide our fans with the winning organization they have long deserved."
The Browns have seven of the first 120 picks in the upcoming NFL draft, and five players made the Pro Bowl. But the team record last season was 4-12.

Click here to link to the Browns statement.
---
---
---
Stories with Recent Comments