Loading...


Arts and Entertainment



Tuesday, February 11, 2014




First U.S. Beatles concert happened 50 years ago today




8,000 screaming fans packed the Washington Coliseum to hear Rock Hall inductees, The Beatles


by WKSU's KABIR BHATIA


Reporter
Kabir Bhatia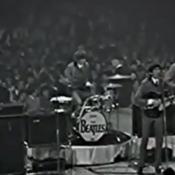 The Beatles' first concert was recorded by CBS, and transmitted in March to movie theaters via closed-circuit phone lines; the master tape of the show was then lost more than 40 years before turning up at auction
Download (WKSU Only)
In The Region:
Fifty years ago today, the Beatles played their first concert on U.S. soil in front of 8,000 fans in Washington, D.C.

As the band set up, emcee Carroll James told the crowd, "In case you don't know who this is, that's Ringo Starr!" James had debuted the group's first big U.S. hit -- "I Want to Hold Your Hand" -- on WWDC in December, 1963.

The crowd of screaming teenagers paid between $2 to $4 to see the show at the Washington Coliseum, a mile south of the U.S. Capitol building. Situated in a boxing ring, with fans on all sides, the Fab Four paused at points throughout their 40-minute show to reset the stage so all could see. The show was filmed and distributed to movie theaters later that year.

It was their first of just three concerts in America that month. The next night, the band played Carnegie Hall, then hit Miami for a live remote for "The Ed Sullivan Show" before heading back to England. The rest of the colonies would have to wait until the Beatles' first proper tour kicked off in August.

Concerts were banned at the Washington Coliseum in 1967, after a show by the Temptations was followed by a riot. The Washington Post reports that the empty 73-year-old building is slated for renovation into mixed-use office and retail space.
The Beatles were inducted in the Rock and Roll Hall of Fame in 1988. John Lennon (1994), Paul McCartney (1999) and George Harrison (2004) have all been inducted as solo artists, while producer George Martin (1999) is in as a non-performer. Manager Brian Epstein will be induced this April in Brooklyn.
---
---
---
Stories with Recent Comments