Loading...


Environment



Tuesday, February 11, 2014




Northeast Ohio's extreme winter will affect spring road repairs, projects




Counties and local governments struggle to stick to their budgets while they pay increasing costs for road salt, fuel and overtime




Story by

KELSEY LEYVA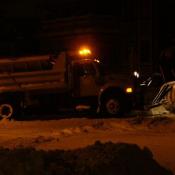 Much of the snow plowing has taken place at night, meaning more overtime as well as other costs eating into road budgets.
Download (WKSU Only)
In The Region:
Northeast Ohio will be dealing with the effects of the salt and ice on roads well into the spring and summer months. Road salt purchases, fuel costs and overtime pay have made it hard for counties and other local governments to stick to their budgets this winter.

In fact, Wayne County' next salt purchase will put it over the limit agreed upon in its original contract. County Engineer Roger Terrill says the county won't know how much the winter affected its budget and future projects until the weather improves.
"I don't doubt that this is going to be a tough year. And we won't have a real good idea as far as how it's going to affect us until the spring after we see what it does to the roads and how much we end up spending on salt and overtime and everything. And at that time why then we'll look at what we can for the summer as far as projects.
Come spring, Terrill says the county's priority will be fixing potholes rather than new construction.
---
---
Stories with Recent Comments