Loading...


Sports



Thursday, February 13, 2014




Brecksville brothers charged in $60k baseball card fraud




Steven and Scott Norris allegedly sold rare cards on EBay, but either never filled orders, or sent fakes


by WKSU's KABIR BHATIA


Reporter
Kabir Bhatia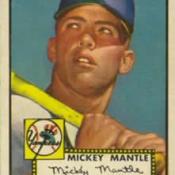 Fake copies of rare cards, like this 1952 Mickey Mantle, are among those that Steven and Scott Norris are charged with selling online from 2006 to 2012
Courtesy of Topps, Inc.
Download (WKSU Only)
In The Region:
Two brothers from Brecksville have been charged in a $60,000 internet scheme to sell counterfeit baseball cards. WKSU's Kabir Bhatia reports.
From 2006 until 2012, Steven and Scott Norris allegedly used multiple EBay accounts to sell rare baseball cards, such as a 1952 Mickey Mantle and a '33 Babe Ruth. After payment, buyers either never received the cards, or received counterfeit reprints.

Justice Department spokesman Mike Tobin says it's a cautionary tale for anyone buying online.

"The internet has certainly made crime easier. Whether it's the sale of fraudulent baseball cards, or child exploitation or financial scams. This case serves as a reminder to anybody [that] they really need to be careful and make attempts to verify who they're doing business with."

Tobin says the brothers also allegedly contacted second-place bidders, claiming the high bidder had backed out, and offering to sell cards at a lower price. These buyers were then told to send cashier's checks to an address in Brecksville. But again, genuine cards were never sent.

Steven, 38, and 40-year-old Scott Norris are charged with nine counts, including mail fraud and wire fraud. Tobin says the maximum sentence could be 20 years in prison.
---
---
---
Stories with Recent Comments