Loading...



From WKYC.COM / TV 3
Get the latest school closings and delays


Funding for WKSU is made possible in part through support from the following businesses and organizations.
---
For more information on how your company or organization can support WKSU, download the WKSU Media Kit.

(WKSU Media Kit


)
---

Economy and Business



Thursday, February 13, 2014




Loretta Mester, new Cleveland Fed chief, takes over June 1




Mester is moving over from Philadelphia Federal Reserve bank


by WKSU's M.L. SCHULTZE


Web Editor
M.L. Schultze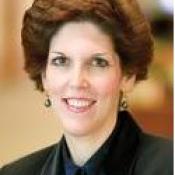 Loretta Mester, 55, becomes the new chief of the Cleveland Federal Reserve Bank.
Courtesy of Federal Reserve Bank of Cleveland
Download (WKSU Only)
In The Region:
The new president of the Cleveland Federal Reserve bank will be Loretta Mester, who is now executive vice president and research director for its counterpart in Philadelphia. Mester will replace Sandra Pianalto, who began at the Cleveland bank in 1983 and became its president in 2003. Mester has been the top policy adviser in Philadelphia and, like Pianalto, is regarded as a pragmatist. Christopher Connor – the head of Sherwin Williams and the search committee that picked Mester – said in a statement that she is a "distinguished and widely respected economist and leader" with vast and deep experience. She earned her doctorate in economics from Princeton, specializing in industrial organization. Mester will officially take over June 1st. The Cleveland Fed has 950 employees, and is one of 12 banks that make up the Federal Reserve system. It covers Ohio, western Pennsylvania, eastern Kentucky, and the northern panhandle of West Virginia.
---
---