Loading...


Government and Politics



Friday, February 14, 2014




Kasich touts jobs, education at Cuyahoga County GOP dinner




But County Executive Ed FitzGerald sees things differently


by WKSU's KABIR BHATIA


Reporter
Kabir Bhatia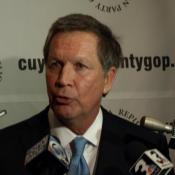 Gov. John Kasich, at a Lincoln Day dinner speech to the Cuyahoga County GOP, had no response when asked about opponent Ed FitzGerald's pledge to, if elected, serve a full-term as governor; it's in response to speculation that Kasich will run for President in 2016
Courtesy of K. Bhatia
Download (WKSU Only)
In The Region:
With 10 days before his State of the State address in Medina, Gov. John Kasich spoke of his successes at a Lincoln Day dinner in Cleveland Thursday. WKSU's Kabir Bhatia reports.
Gov. Kasich told the more than 400 Cuyahoga County Republicans that Ohio's economic recovery is on track thanks to initiatives like the death of the death tax, adding that he still wants to get income tax below five percent. But he said the best measure of his effectiveness has been the state's job growth.

"When I came in, we had lost 350,000 jobs. That's three Ohio State football stadiums full of people. We've gone from a loss of 350,000 private-sector jobs to a gain of 170,000 jobs as of tonight."

Kasich will likely face Democratic Cuyahoga County Executive Ed FitzGerald this fall, who says those numbers still lag behind national trends.

"We've been ranked, recently, as low as 45th in job creation. When he goes around the state and says job creation is a miracle, I don't know who he's talking to. People that are living in the real world know it."

While in Cleveland, Kasich also touted the state's education initiatives, such as the third-grade reading guarantee, and pointed to the Cleveland Municipal School District's reform plan as an example of how the partnership between local officials and state legislators can produce results.

"It doesn't get done in a day. Don't be down about quick test scores. It's not the measure. Our schools are getting better. This reform plan in the Cleveland schools is the most significant reform plan in the northern part of the U.S. and serves as a model for the rest of the country."

One part of that overhaul plan involves sharing levy money with charter schools, and that does not sit well with Ed FitzGerald.

"He's cut over $500 million, net, out of public schools in Ohio. In the Cleveland school's levy that had to be passed to make up for state cuts, 9 out of 15 mills was directly attributable to Kasich's cuts. At the same time, the big winner in education, in terms of funding -- some of the worst-performing schools in Ohio -- are for-profit charter schools."

FitzGerald went on to point out Cuyahoga County's increased emphasis on early childhood education, saying it sets kids on a track toward graduation instead of dropping out, and adding that he hopes to implement the plan state-wide.

Kasich went on to say Ohio needs to combat drug abuse by focusing on prescription drug use by teens.

The governor touted his "Start Talking" initiative launched last month. The plan brings together school-based anti-drug programs that aim to start a dialogue between parents and students.

"Now we have to get to the demand side, which is for our kids. [So] when they're at a party, and someone puts a prescription drug in front of them, they have the power and courage to say, 'no.' The trip from prescription drugs to heroin is now a trip from heroin to prescription drugs and back and forth."

Kasich added that Medicaid expansion in Ohio will help fund anti-drug programs in Ohio, as well as treatment for the mentally ill.
---
---
---
Stories with Recent Comments