Loading...



From WKYC.COM / TV 3
Get the latest school closings and delays


Funding for WKSU is made possible in part through support from the following businesses and organizations.
---
For more information on how your company or organization can support WKSU, download the WKSU Media Kit.

(WKSU Media Kit


)
---

Government and Politics



Friday, February 14, 2014




Downtown Cleveland installs new recycling bins




Officials hope the bins in key downtown spaces will help cut waste and raise awareness




Story by

LYNDSEY SCHLEY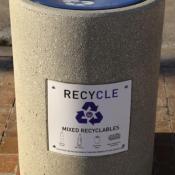 Cleveland will be placing new recycling bins next to waste receptacles downtown.
Courtesy of Ruggero Fatica
Download (WKSU Only)
In The Region:
The City of Cleveland finished installing 40 new cement recycling bins in its downtown today. Cleveland's Sustainability Project Manager Kristin Hall says the bins cost the city $36,000 and are part of its on-going green initiative. Hall says the bins are meant to bring in revenue, but also promote good habits.
"There's a couple different layers to it we're anticipating," Hall says. "One of the biggest is obviously creating those opportunities for our downtown public to be able to recycle. But another added layer is being able to increase visibility of recycling downtown."
She says the recycling bins are part of the "Year of Zero Waste," an effort to eventually get Cleveland to divert 90 percent of waste from landfills.
The bins will be next to existing trash receptacles and have blue lids and signs indicating acceptable waste.
Page Options

Print this page

E-Mail this page / Send mp3

Share on Facebook
---
---
Stories with Recent Comments