Loading...


Economy and Business



Monday, February 17, 2014




Davis-Besse preparing report on air pocket in concrete reactor wall




Structure keeps out the elements, but a bad concrete pour left an air pocket following reactor head replacement in 2011


by WKSU's KABIR BHATIA


Reporter
Kabir Bhatia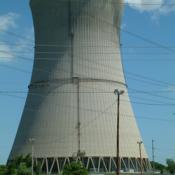 Davis-Besse's shield building is about about 500 yards east of this cooling tower (visible from the expressway), and a quarter of the size.
Courtesy of WKSU
Download (WKSU Only)
In The Region:
Akron-based FirstEnergy is slated to make a report Tuesday to the Nuclear Regulatory Commission on an air pocket found in the concrete wall around the reactor at the Davis-Besse nuclear plant. WKSU's Kabir Bhatia reports.
FirstEnergy says the air pocket – discovered late last week – happened in 2011, when the concrete was last re-sealed following replacement of the plant's reactor head.

The 25-foot gap – which is 6 to 12 inches wide and about 2.5 inches deep – was discovered Friday after Davis-Besse went offline this month for replacement of its two steam generators, a $600 million project. FirstEnergy says there is no timetable for that project, nor repair of the air pocket, but altogether it will take longer than a standard 30-day refueling cycle.

Nuclear Regulatory Commission spokeswoman Victoria Mytling says the concrete wall is the inner shield of the building that protects Davis-Besse's reactor from the elements.

"The most important thing is that there is no current safety concern. And going forward, we will make sure the plant properly dispositions this issue before they can return to power."

Mytling adds that additional inspectors have been on the scene this weekend, joining those who were already at Davis-Besse to monitor the generator project.

The plant has had repeated trouble with its steel cap and with cracks in its protective shield. A report last fall showed the plant has the most high-level violations per reactor in the country since 2001.

FirstEnergy is trying to get a 20-year renewal of Davis-Besse's operating license, which expires in 2017. About 30 percent of the utility's power comes from its four nuclear plants in Ohio and Pennsylvania.

Click here for a map of all the nuclear plants in the U.S.
---
---
---
Stories with Recent Comments