Loading...


Environment



Tuesday, February 18, 2014




Northeast Ohio expects more flooding




Warmer temperatures, expected rain and a frozen Lake Erie are contributing to the possibility of severe flooding




Story by

KELSEY LEYVA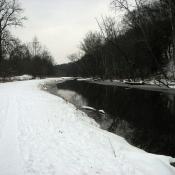 Ice on the Cuyahoga River is melting, raising fears of flooding.
Courtesy of Cuyahoga JCO, flickr
Download (WKSU Only)
In The Region:
Northeast Ohio is preparing for another thaw that is expected to cause severe flooding. Areas near Lake Erie, such as Willoughby and Rocky River already dealt with flooding last month. But Jim Kosarik with the National Weather Service says, the rest of the region needs to prepare.
"This thaw is going to be more significant than that one. It'll be warmer, there'll be more rain going into the system, more melting snow and the ice is thicker, so the problems have all gotten worse."

Rocky River Mayor Pamela Bobst says the ice on Lake Erie is so thick and the river in her city is so shallow that equipment can't fit in to cut through the lake ice. That's likely to create more flooding when the melted river water meets the solid lake.
---
---
Stories with Recent Comments