Loading...



From WKYC.COM / TV 3
Get the latest school closings and delays


Funding for WKSU is made possible in part through support from the following businesses and organizations.
---
For more information on how your company or organization can support WKSU, download the WKSU Media Kit.

(WKSU Media Kit


)
---

Environment



Tuesday, February 18, 2014




High waters and flooding expected across Northeast Ohio




Flooding is expected this week regardless of how close you are to a body of water




Story by

KELSEY LEYVA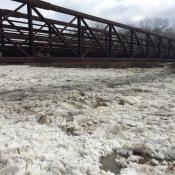 The Chagrin River caused flooding problems during the last thaw in January. This week is expected to be worse.
Courtesy of Kabir Bhatia
Download (WKSU Only)
In The Region:
Warmer temperatures across Northeast Ohio are expected to cause flooding this week regardless of how close you are to a body of water. Jim Kosarik with the National Weather Service says a thunderstorm and strong winds are expect to hit Thursday night, which will add more water to an area also ready well covered with months of snow and ice.
"There could be enough water just about anywhere that basement flooding could be a problem, maybe flooding of low lying areas. The ground is still pretty well frozen in a lot of places, or it will be, so there could end up being high water just about anywhere."
In one brief thaw this winter – in mid-January – Rocky River, Willoughby and other areas near Lake Erie were flooded.
Kosarik says a flood watch will be posted by mid-week.
Page Options

Print this page

E-Mail this page / Send mp3

Share on Facebook
---
---
Stories with Recent Comments