Jennifer Bradley and Bruce Katz say we have to move away from an economy of consumption and debt, or we'll never get back the jobs we lost in the Great Recession. They argue for an economy that revolves around science, technology, engineering and research. But that doesn't mean just computers chips. It includes the auto industry and advanced manufacturing that Ohio is known own for.
Bradley says Akron did well to take its expertise with rubber and build on it.
"You're building on it; you're learning from it, and you're thinking about all the different ways you can reinvigorate your legacy from the tire capital of the world into the polymer capital of the world."
Bradley says she feels even better about Akron after touring the Austen BioInnovation Institute and seeing the foreign companies that have set up in the city's business accelerator. In fact, she says Akron had faster growth in exports than all but a dozen U.S. cities.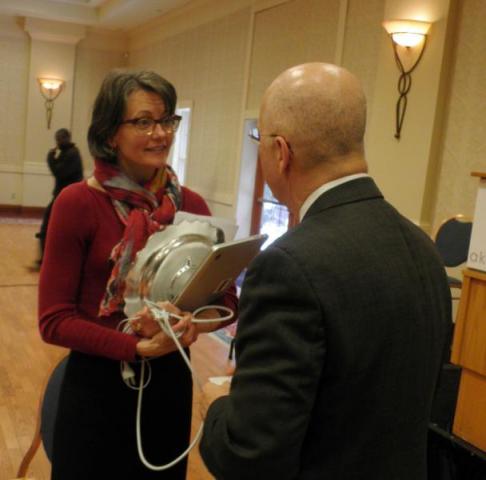 One advantage of pursuing advanced manufacturing is that it does not require workers with advanced degrees.
One reason the Brookings Institution spotlighted Northeast Ohio is because philanthropies joined together as the Fund For Our Economic Future and took a collective approach with local governments and institutions to work for the region as a whole. Bradley says cities sometimes begin that regional effort by supporting the arts, which is what happened in Detroit and Denver.
And how about sports stadiums? Bradley's co-author told the Cleveland City Club in September that such spending is usually a waste of money. Bradley is softer in her criticism, but says there is a better way to invest a community's dollars.
"If you can, create these kind of live-work-play-invent districts where you have population density, where you have the nightlife and the cultural amenities alongside anchor institutions or innovative institutions or laboratories."
One such promising endeavor, Jennifer Bradley points to is the development around the University of Akron. She says cities are going to have make their own future because the government shutdown has proven the federal government is not up to the task.