Loading...


Environment



Thursday, February 20, 2014




Nuclear Regulatory Commission continues monitoring Davis-Besse generator replacement




$600 million project revealed interior air pocket in reactor's concrete shield building


by WKSU's KABIR BHATIA


Reporter
Kabir Bhatia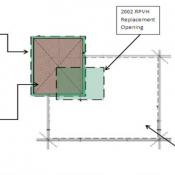 The Nuclear Regulatory Commission's diagram shows where in the shield building the cuts have been made to perform work on the reactor in the past
Courtesy of NRC
Download (WKSU Only)
In The Region:
Nuclear Regulatory Commission inspectors are still examining the air pocket found last week in the wall around the Davis-Besse nuclear plant reactor near Toledo.

In an online town hall Thursday, the commission said the 25-foot gap occurred in 2011, during replacement of the reactor head, but was not discovered until this month, when the plant went offline for replacement of its steam generators.

Senior Reactor Inspector Otto Shake has been on-site for the $600 million upgrade, and says a report is due sometime later this year on the safety of both the generators and the concrete shield building.
"It may be a bit premature to speculate on where this ends up with regard to license renewal, but suffice it to say that we are evaluating not only the number of times the shield building has been cut, but also the issues that have arisen each time the shield building was cut."

Akron-based FirstEnergy is trying to get a 20-year renewal of Davis-Besse's operating license, which expires in 2017.

The plant has had repeated trouble with its steel cap and with cracks in the protective shield. A report last fall showed the plant has the most high-level violations per reactor in the country since 2001.
---
---
---
Stories with Recent Comments