On the same afternoon that federal officials announced that 3.3 million people nationally have signed up for health insurance plans on the exchanges, the sun was shining in downtown Cleveland.
Young adults, those who fall in the 18- to 34-year-old age group that officials say are so necessary to make the federal reform work, were willing to pause on the street and answer one quick question: What do you think of the Affordable Care Act?
"Oh, man, I don't know much about it," 25-year-old Brian Schlesinger says. "I'm not really into politics; I guess that's a bad thing to say, but it just doesn't interest me."
"I really know nothing about it," 26-year-old Josh Fox says. "From what I've understood, it's a hassle to sign up and I really haven't paid that much attention to it."
Young Invincibles
For months, the question of whether the so-called Young Invincibles will sign up for health insurance has loomed large. Why would someone who is young, healthy and statistically unlikely to encounter a major illness anytime soon be interested in paying a monthly premium for coverage?
That is a question U.S. Health and Human Services Secretary Kathleen Sebelius tried to address when she stopped by Cleveland earlier this month to stump for the ACA.
"We know it's harder to get their attention," Sebelius says. "I'm the mother of one nearly formerly 20-something and one still 20-something. I know they don't get up every morning thinking, boy, I wish I had health insurance. I don't know what they get up every morning thinking but my guess is, it isn't that."
The administration has stepped up marketing efforts in recent weeks, allocating $52 million in advertising money for the first three months of the year and recruiting celebrity spokespeople like Jimmy Kimmel and Magic Johnson.
Getting young people listening
But even more important are the people closer to home, says David Bransfield, a state outreach coordinator for the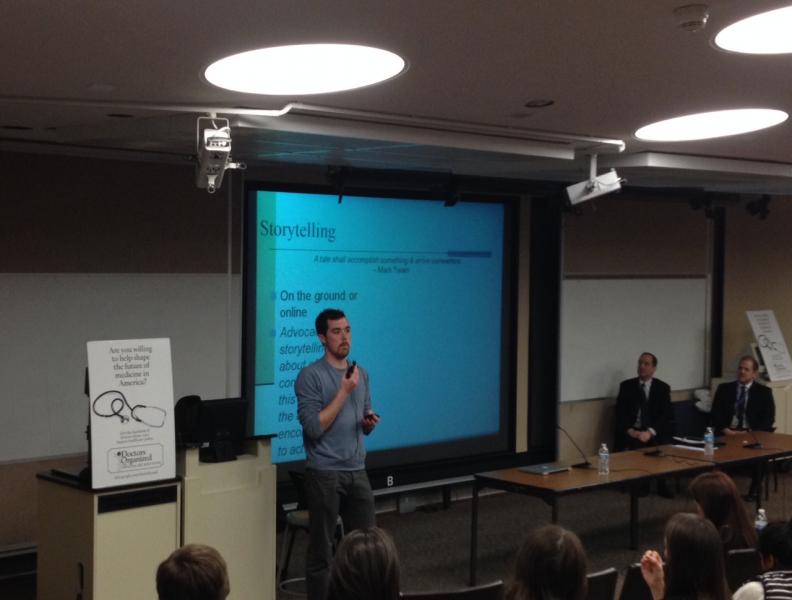 national Young Invincibles group. He spoke recently to a group of Case Western Reserve University medical students about recruiting new enrollees.
"You guys know who you listen to," Bransfield says. "You listen to your mom, you listen to your friends, you might listen to John Stewart."
Bransfield says the effort is working. He points to the latest federal count, which showed an uptick in the number of adults aged 18-34 signing up. By the end of January, that demographic reached 25 percent of total enrollment in Obamacare health plans.
In Ohio, only about 21 percent of the enrollees were young adults.
Both statistics are well below the 38 percent administration officials have said are needed to give insurers an adequate mix of healthy versus older and sicker enrollees.
Bransfield took that message to the group at Case, most of whom were likely already insured.
"Be proactive for all those people who aren't, all those people who did not come here," Bransfield says. "If they see a post on Facebook, they are much more likely to read that than come to a lecture."
Bransfield believes there will be a surge in enrollments just before the March 31 deadline.
Back on the streets of Cleveland, it seems unlikely that 25-year-old Brian Schlesinger, who has insurance through his job as an engineer, will share with his friends how great it is. He says he has yet to actually use his insurance.
"I will be at some point, I'm sure," Schlesinger says.
And Fox, who works as a server and is uninsured, says he is unlikely to sign up, even if he qualifies for a subsidy on the exchange.

"I don't know," Fox says. "It's just something that you can't really afford to pay attention to. So those sort of situations when they come up, you deal with them."

Obama officials have four weeks to capture his attention.