Loading...


Government and Politics



Friday, February 21, 2014




FitzGerald critiques Kasich: Ohio's economy is no miracle




Before the annual State of the State, Kasich's likely Democratic challenger says the governor is out of touch




by WKSU's ANDY CHOW



Reporter
Andy Chow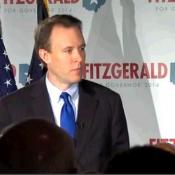 FitzGerald has a very different read from Kasich on the state's economic progress.
Courtesy of FILE PHOTO
Download (WKSU Only)
In The Region:
The expected Democratic candidate for governor, Cuyahoga County Executive Ed FitzGerald, is voicing his own opinions on how Ohio is doing in the days leading up to Gov. John Kasich's State of the State address Monday night. While FitzGerald doesn't know exactly what Kasich will say, the candidate can assume that Kasich will paint a picture of progress in Ohio.
"There's a certain version of reality that the governor's going to give and I think he has that view because he's not in touch with the actual reality that most people in Ohio are living with. That's why he feels comfortable using the language that he has — that the economy in Ohio is a miracle."
FitzGerald says the state's economy is helping only the rich while the middle class and local governments haven't reaped any benefits.
Kasich will speak starting at 7 p.m. in Medina.
---
---
---
Stories with Recent Comments