Loading...


Environment



Friday, February 21, 2014




Evacuations begin in Rocky River due to ice jam




Sirens sounded early this afternoon, but the ice jam has hit Lake Erie, abating flood concerns


by WKSU's KABIR BHATIA


Reporter
Kabir Bhatia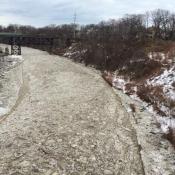 From the Detroit Ave. bridge in Rocky River, all one can see is jagged ice, everywhere
Courtesy of K. Bhatia
Download (WKSU Only)
In The Region:
Officials in Lakewood and the City of Rocky River have advised residents to move to higher ground, with some evacuations already in progress. It's in response to the ice jam that shifted this morning and has made the river look like cream of potato soup.

John Chiros has lived in Lakewood his whole life, and was watching the marina from the windswept Detroit Avenue bridge this afternoon.

"It's just a massive flow of ice and it's higher than I've ever seen it in 62 years. People can get locked-in down there, in the parking areas. And the houses are probably getting some water right now. I don't know that I've ever seen it this high."

The Cleveland Metroparks has closed the entrance to the Emerald Necklace Marina as the water has risen up into the parking lot, and there is a flash flood warning in effect until 1 tomorrow morning.

Lakewood Fire Chief Scott Gilman tells the Plain Dealer that water can still make its way around the blockage, which is a good sign. And with colder temperatures returning, and no rain expected, there's less of a risk of flooding this weekend.



---
---
---
Stories with Recent Comments