Loading...


Ohio



Monday, February 24, 2014




Northeast Ohio groups ask Gov. Kasich for $40 million




Community projects are back on the table for state spending; proposals include the lakefront walkway and a business incubator in Akron


by WKSU's KABIR BHATIA


Reporter
Kabir Bhatia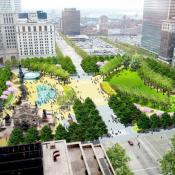 The Public Square revamp is slated for completion in 2015, and Cleveland wants to connect the area to the lakefront with a $7 million walkway
Courtesy of James Corner Field Operations
Download (WKSU Only)
In The Region:
Three Northeast Ohio groups are asking Gov. Kasich for about $40 million for capital projects -- everything from a business incubator in Akron to refurbishing a theater at the Rock and Roll Hall of Fame. That's because the governor is changing course from 2012, when he limited capital spending to state agencies and colleges. WKSU's Kabir Bhatia reports.
The Greater Cleveland Partnership is asking for half of the $40 million, with $7 million earmarked for a pedestrian walkway connecting downtown to the lakefront. That project is aimed at making the area near FirstEnergy Stadium and the Great Lakes Science Center more attractive to developers. But it's also been turned down three times for a federal transportation grant.

The Greater Akron Chamber wants about $10 million, with a third of that for a project called the Center for Bits and Atoms, a business and manufacturing incubator.

And 16 arts and cultural attractions are vying for the remaining $8.6 million. Projects in that category include improving disabled access at Severance Hall's Reinberger Chamber Hall, restoration at Stan Hywet Hall & Gardens and the last $1 million toward the Cleveland Museum of Art's seven-year, $323 million overhaul.

A final bill outlining which projects get funding was to be introduced in the Statehouse this month, but a House GOP spokesman told Crain's Cleveland Business last week that no timetable has been set.


Capital budget requests:
-Cleveland Lakefront Access: $7,000,000
-Flats East Gateway and Riverfront: $6,000,000
-Akron Global Business Accelerator: $3,700,000
-New Economy Neighborhood Fairfax Renaissance: $3,000,000
-Cascade Plaza Renovation: $2,500,000
-Austen BioInnovation Institute, Advanced Prototyping and Preparedness Structure: $1,500,000
-Cleveland Museum of Art: $1,060,522
-Karamu House renovation: $1,060,522
-Rock and Roll Hall of Fame theater renovation: $1,060,522
-Severance Hall Reinberger Auditorium renovation: $1,060,522
-Stan Hywet Hall and Gardens restoration: $1,060,522
-Akron Mayflower Manor Redevelopment Area: $1,000,000
-Central Neighborhood Care Alliance Health Center: $1,000,000
-Gordon Square Arts District: $1,000,000
---
---
---
Stories with Recent Comments