Loading...


Economy and Business



Monday, February 24, 2014




Survey shows fracking boosts Ohio's economy, but has its drawbacks




Fracking also brings noise and increased water demand




Story by

LYNDSEY SCHLEY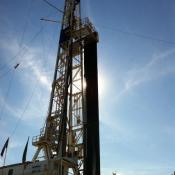 Fracking brings economic boosts, but also noise and infrastructure complaints.
Courtesy of Tim Rudell
Download (WKSU Only)
In The Region:
A survey by Ohio University shows fracking communities in Ohio are reporting economic growth, but also creates issues with water demand. Scott Miller is the director of Ohio University's Consortium for Energy, Economics and the Environment. He says the Consortium surveyed mayors, township trustees and commissioners in 17 counties with fracking activity. About 60 percent of respondents say the overall impact of fracking has been positive. Positives from the survey include increased retail and restaurant activity, people moving to the Appalachian region for jobs and increased property values.

But one environmental issue drew a lot of concern. Nearly 50 percent of respondents said they were concerned about demand for water in their communities.
"What they mean by that is hard to know, but this industry does have a pretty heavy water footprint and the demand for water to hydraulically fracture a well is well known," Miller says. "That's probably what's happening here."
Other complaints include increased noise, traffic and the need for road maintenance.
---
---
Stories with Recent Comments