At his last State of the State address before he faces voters for re-election, Gov. John Kasich talked about how he balanced the budget and cut taxes while the jobless rate slowly declined.
Last night, he suggested investing more in early childhood education and vocational ed programs as well as on treating drug addiction and reducing child mortality rates. But in his vision of the future, Kasich sounded very Reaganesque, painting big government as a nefarious force. He imagined a future where "rugged individuals" would start their own businesses.
"They will succeed because we will not let government stomp them out with mindless rules and high taxes. Ohio will be a place where everyone takes responsibility for themselves."
Cutting income taxes
The Republican's biggest proposal was to lower the highest rate on state income taxes to below 5 percent.
Afterwards Democrats stood behind House Minority Leader, Tracy Maxwell Heard, who called Kasich's tax cut proposals just more trickle-down economics that benefit the wealthy.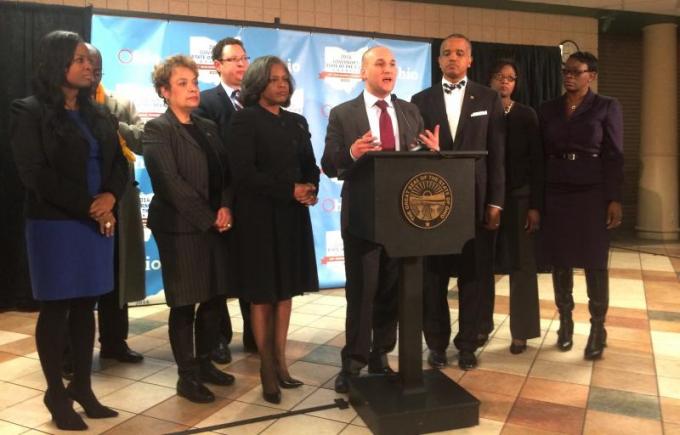 "It does not work because business responds to consumer purchases and spending and if the largest part of the population doesn't have disposable income, giving tax breaks to the 1percent simply goes into their savings and trust funds. "
And Senate Minority Leader Joe Schiavone argued that Kasich can't cut taxes again without hurting the poor and middle class.

Other sources
But revenue could come from other sources. Kasich did suggest that $10 million of casino taxes could be diverted to early student mentoring programs. And last year he tried and failed to get the Republican-dominated Legislature to raise taxes on the oil and gas being pumped out of Ohio.

Senate Majority Leader Keith Faber said afterwards he would give that so-called severance tax "serious consideration."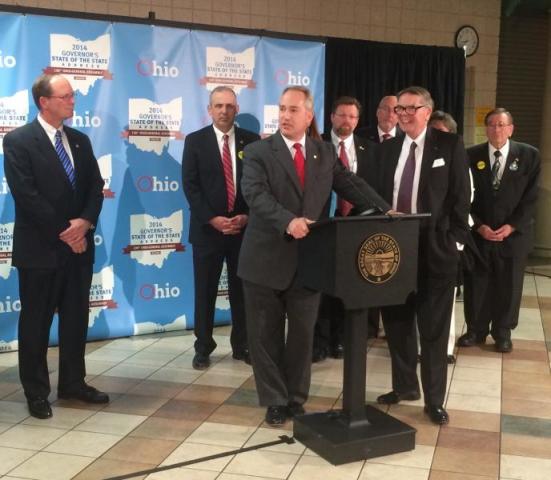 Hometown honors
The speech was held in Medina, where home-town boy and House Speaker William Batchelder enthusiastically embraced Kasich suggestion that tobacco settlement money that began about 15 years ago be spent on smoking cessation rather than other programs.
"It's ridiculous for us to have deprived the people in this state who are plying that program and to take the money away."
Batchelder is retiring at the end of the year and the governor honored him by naming the Medina Highway Patrol post the William G. Batchelder post.