Loading...


Environment



Tuesday, February 25, 2014




Home rule goes to the Ohio Supreme Court




The case is about local versus state control over drilling but has broader implications


by WKSU's TIM RUDELL


Reporter
Tim Rudell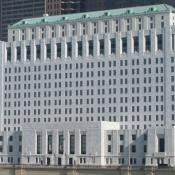 Moyer Justice Center, Columbus. Home of the Ohio Supreme Court
Courtesy of Courtesy of Ohio Supreme Court
Download (WKSU Only)
In The Region:
Home rule and gas and oil drilling interests will have their day in Ohio's highest court in Columbus. The state Supreme Court will hear oral arguments in the Munroe Falls versus Beck Energy case. WKSU's Tim Rudell has a preview of a case that's drawn attention nationally.
The case
When Beck Energy wanted to drill a well in Munroe Falls in 2011, the city tried to require a municipal drilling permit and to enforce its zoning and traffic ordinances. The matter went to court. Munroe Falls won at the county level. Beck Energy got a partial reversal when the court of appeals said the city has no permitting authority over drilling. Both sides appealed to the Ohio Supreme Court.

What's at stake
Jonathan Entin, a Case Western Reserve University law school professor, says the high court is facing a broad issue: How the purposes of the hundred-year-old "home rule" amendment to the state Constitution square with a law the Legislature passed in 2004 giving all control over gas and oil to the state. "The court clearly is going to be trying to figure out what exactly this state law covers, and what does that mean…what's left for the local community to regulate."

Arguments will be streamed live
In a session starting at 9:00 a.m., each side will have 15 minutes to present arguments.
---
Related WKSU Stories

Ohio Supreme Court hears Munroe Falls home rule case
Monday, February 24, 2014

High Court hears arguments in Munroe Falls drilling case
Thursday, February 20, 2014

Ohio's Supreme Court to weigh in on local vs. state control over fracking
Thursday, June 20, 2013

Youngstown anti-fracking amendment will go to voters
Wednesday, February 20, 2013

Ohio's Supreme Court to weigh in on local vs. state control over fracking
Thursday, June 20, 2013
---
---
---
Stories with Recent Comments