Loading...


Economy and Business



Tuesday, February 25, 2014




FirstEnergy 2013 earnings drop almost 50 percent compared to 2012




Despite an overall earnings decrease, the company had a promising fourth quarter




Story by

KELSEY LEYVA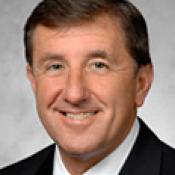 Chief Financial Officer James Pearson says the cold winter temperatures contributed to the sales and gains during the fourth quarter.
Courtesy of FirstEnergy
Download (WKSU Only)
In The Region:
Akron-based FirstEnergy's earnings during 2013 were cut nearly in half compared to 2012. Despite the significant decrease, the company says its last quarter of 2013 shows promise for 2014. James Pearson, FirstEnergy's chief financial officer, says the weather was a main contributor to the company's success in the fourth quarter.
"On the residential and commercial side, the gains during the quarter were largely weather driven with colder winter temperatures driving 3 percent increases in residential and commercial sales," Pearson says.
FirstEnergy says it's taken "decisive actions" that should better its financial picture this year, including laying off 200 people in 2012.
---
---
Stories with Recent Comments