Loading...



From WKYC.COM / TV 3
Get the latest school closings and delays


Funding for WKSU is made possible in part through support from the following businesses and organizations.
---
For more information on how your company or organization can support WKSU, download the WKSU Media Kit.

(WKSU Media Kit


)
---

Arts and Entertainment



Friday, February 28, 2014




Lakewood author re-imagines movie posters




With the Academy Awards coming Sunday night, a new book looks at movie posters that never were


by WKSU's KABIR BHATIA


Reporter
Kabir Bhatia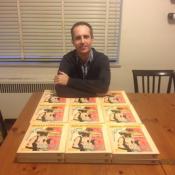 Lakewood author Matthew Chojnacki's second book, 'Alternative Movie Posters: Film Art From the Underground,' features hundreds of posters-that-never-were by artists from around the world
Courtesy of K. Bhatia
Download (WKSU Only)
In The Region:
A Northeast Ohio author is resurrecting the lost art of the movie poster by commissioning artists to reimagine classic films with a single image. WKSU's Kabir Bhatia takes us inside today's alternative movie poster revival.
The Academy Awards air Sunday night. Almost all of the nine films vying for Best Picture have a retro connection, whether it's the 1970s in "American
Hustle" or the 1980s in "The Wolf of Wall Street."

But Lakewood author Matthew Chojnacki says the iconic movie poster of that era is no longer part of Hollywood's dream factory. That's why he commissioned more than 100 artists from 20 countries to create a couple images each for his coffee-table book, "Alternative Movie Posters: Film Art From the Underground."

"They're doing these movie posters for cult cinema showings, for film festivals. These underground designers are bringing back these old techniques of hand-drawing, sometimes minimalism, some of them work with neon or glow-in-the-dark ink. Some of them print on wood.
"So they're really pushing the boundaries of what a movie poster is."

The artists reimagine classics like "The Godfather," which looks like the cover for an early '60s graphic novel. "Star Wars," turns into a retro boxing-match pitting good versus evil, while "O Brother, Where Art Thou" takes a page from early Disney cartoons like "Steamboat Willie."


Filling a niche
Chojnacki's dissatisfaction with today's posters stems from what he says is the focus on star power over plot.

"It's kind of the dumbing-down of entertainment. You definitely know if a picture has Will Smith in it, because it's a huge head shot of Will Smith. But it doesn't necessarily convey what the movie is about. I think they're kind of tossing aside that you're actually in it for the screenplay or the theme of the movie or what kind of emotion you're going to get out of it."

Although he concedes that movie stars sell tickets – then and now, his book takes the stance that audiences care about more than just the actors on-screen. Sometimes the story can sell a film, but the poster can also be a spoiler.

"You have 'Bonnie & Clyde,' which is a very simple poster of a car forming a dollar sign with its skid tracks. The two vertical lines going through the dollar sign are bullets at the car. So it's conveying not only a slick presentation for a dollar sign, but also the theme of the movie as well."

Spoiler alert?
"Kind of, but a lot of these posters are done for collectors. And if it is kind of a spoiler, maybe it's more suited for a Blu-ray or collector package than a one-sheet."


Some of the posters have shown up on DVDs, or on soundtrack covers, or published in their own right as limited edition one-sheets. Some of the artists have even been commissioned to produce posters for new indie-films.

"As with music, indie filmmakers don't have stars in their movies. So a lot of directors are using artists in this book to sell their movies. That's all they have to go on. They only have the one-sheet, reviews and the trailer to go on. A lot of these artists are just doing this for fun on the side. They're freelance artists and huge moviegoers. So they've picked out their favorite movies, they didn't like the original poster art, and they thought they could do a better job. And they are."

Moving on up
One artist – Federico Mancuso, from Italy – has actually moved into the mainstream.
"He did his own fan art for 'Django Unchained' before he even saw a trailer. And he posted it on Quentin Tarantino's Facebook page. Quentin Tarantino called him a week later and actually bought it and used it for the teaser poster. On one hand, you'd think a lot of studios might get upset that people are
changing how their movie looks. But on the other hand, a lot of these artists are being snapped up by famous directors to do pieces for them."

Chojnacki says it takes a special talent to boil down a two-hour film to a single, static image, be it horror, sci-fi or comedy. Those genres – whether classic, cult or mainstream -- are all represented in the book, "Alternative Movie Posters: Film Art From the Underground."
---
---