Loading...


Government and Politics



Wednesday, February 26, 2014




Cleveland City Council expected to add to 2016 presidential convention bid




With $5 million from Cuyahoga County, the city is slated to meet this week and add to the package


by WKSU's KABIR BHATIA


Reporter
Kabir Bhatia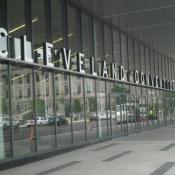 The new convention center is one of many reasons county and city officials say Cleveland should host either the Republican or Democratic convention in 2016
Courtesy of Kevin Niedermier
Download (WKSU Only)
In The Region:
Cleveland City Council is expected to vote to add more money this week to the $5 million Cuyahoga County Council has set aside to try to draw a presidential convention to the city. WKSU's Kabir Bhatia reports on why Cleveland, Columbus and Cincinnati are all vying for a Republican or Democratic convention.
County Council unanimously approved $2.5 million on Tuesday night, along with another $2.5 million for law enforcement and public works.

The money is contingent on the city winning a bid to host a convention, and County Executive Ed FitzGerald says he has no doubt that Mayor Frank Jackson and the city will support the effort.

"It doesn't necessarily entail the City of Cleveland writing a check, but it does mean that they have to take this on as an enormous project. Ultimately, their contribution is going to be very significant because of all the public safety services that they end up providing."

City Council is slated to meet this week to pass its financial package for the bid, and Council President Kevin Kelley says politics and Cleveland are a perfect match.

"Where Cleveland and Cuyahoga County go, so goes the state of Ohio. And oftentimes, where the State of Ohio goes determines who the President of the United States is."

In 2012, President Obama carried Ohio, primarily because of his winning percentage in Cuyahoga County. Democrats and Republicans are expected to release a list of potential convention cities in April, with the finalists announced in August.

University of Akron political scientist Dave Cohen says the impact of a winning bid could be $200 million.

"Five million dollars is a lot of money. But the economic forecast calls for, potentially, 35,000 visitors to the city. So the $5 million initial investment may be a lot at the beginning, but the economic payoff could be really, really big."

Council President Kelley adds that a convention in Cleveland gives the city a chance to show off its new hotels and amenities for visitors.
---
---
---
Stories with Recent Comments