Loading...


Government and Politics



Thursday, February 27, 2014




A committee of house and senate members will meet to discuss calamity days




The Ohio House and Senate disagree about how to handle missed days




by WKSU's STATEHOUSE CORRESPONDENT JO INGLES



Reporter
Jo Ingles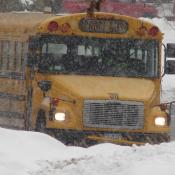 Due to extreme winter weather conditions, schools all over Ohio were forced to cancel school despite having no calamity days left.
Courtesy of Creative Commons: ThoseGuys119
Download (WKSU Only)
In The Region:
Ohio's schools are looking to the state legislature for answers on how to handle days missed because of snow and cold weather. Most school districts have hit the five day mark, while some districts have cancelled school for more than 15 days.

State lawmakers think the state has to do something right now to deal with schools that have run out of calamity days. But as Ohio Public Radio's Jo Ingles reports, legislators can't agree on how to do that.
The big question is what should be done. The Ohio House has voted to give districts four extra days, but two of those days have to be used for teacher training.

The Ohio Senate passed its own plan that would require districts to use four of their contingency days first. Those are days that schools have scheduled off in case they had to close for more than five days. Using those could mean a shorter spring break for students, going to school on a holiday or extending the school year.

Under the senate plan, after those days are used, the four extra snow days would be granted but one of those would be a professional work day for teachers. So now the disagreement over how to handle snow days will go to a committee of house and senate members.

That committee will meet next week to hopefully hammer out an agreement, and the Ohio House and Senate will meet the following week. Both chambers could pass the agreed upon legislation at that time, just before schools start to take more time out for spring break.
---
---
---
Stories with Recent Comments