Loading...


Economy and Business



Friday, February 28, 2014




Some Akron Lockheed Martin workers could be headed to Orlando




Company says 200 engineering jobs will head to its Florida flight-simulation jobs


by WKSU's KABIR BHATIA


Reporter
Kabir Bhatia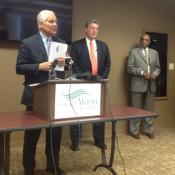 Akron Mayor Don Plusquellic (left) blasted Congress last fall for sequestration and the Defense Department cuts that doomed the Akron Lockheed Martin facility. About 500 employees at the plant face layoffs; Lockheed will decide in the coming months how many engineering workers to move to Orlando
Courtesy of K. Bhatia
Download (WKSU Only)
In The Region:
Lockheed Martin is planning to move 200 engineering jobs to its Orlando flight-training facility, and many of those workers could come from Akron.

The company announced last fall it's closing the Akron mission systems facility, eliminating 500 jobs.

The Orlando Sentinel reports that many of the jobs moving to Florida pay $90,000 and higher. In the next few months, the company will figure out how many of those jobs will be filled by transfers from Akron.

Maryland-based Lockheed will continue part of its 20-year lease at the Akron Airdock, which is owned by the Summit County Port Authority. About 70 employees will be retained for work on blimps there.

The company announced major cost-cutting last fall, and could eliminate up to 4,000 jobs at five plants.

Lockheed blames the closures on defense department cutbacks related to sequestration. When the cuts were announced in November, Lockheed said about half the workers could receive transfer offers to Denver or Orlando.
---
---
---
Stories with Recent Comments