Loading...


Ohio



Monday, March 3, 2014




Gov. Kasich still working out how to lower state income tax




Income tax could become a part of his gubernatorial campaign




by WKSU's STATEHOUSE BUREAU CHIEF KAREN KASLER



Reporter
Karen Kasler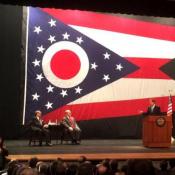 Gov. Kasich is still working on how he will get the tax reduction he mentioned in his State of the State address.
Courtesy of WKSU
Download (WKSU Only)
In The Region:
Gov. John Kasich has long campaigned against the state income tax. And with his re-election bid underway, it is no surprise that he announced in his State of the State speech that the tax is once again a target. He said he wants the top rate to be below 5 percent, but says details of how he will pay for that tax cut will have to wait until his budget.
"I would guess another week or so," Kasich says. "I'm not going to go out and talk because everybody's working behind the scenes to put all the numbers together. Once they're together, I think it'll get out and the sooner the better for everyone who wants to know what's in it. We'll get it out there."

Democrats have said that lowering that top income tax rate will not help middle-class Ohioans, and they note property taxes and state sales taxes were increased in Kasich's last budget.
---
---
---
Stories with Recent Comments