Loading...


Ohio



Friday, February 28, 2014




Polar Vortex created at least $100 million in insurance claims




Burst pipes, ice dams and strong winds damage cars, homes and businesses




Story by

LYNDSEY SCHLEY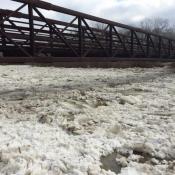 Ice dams like these caused by cold weather have led to flooding and property damage.
Download (WKSU Only)
In The Region:
New estimates suggest the Jan. 5 Polar Vortex may be Ohio's second costliest winter storm since 1993. Mary Bonelli of the Ohio Insurance Institute says surveys show the three days of bitter cold led to $100 million to $125 million dollars in insured losses for businesses, homeowners and auto owners. She says the record low temperatures led to lots of burst pipes.
"We found one company reported that the average burst pipe claim is $10,000," Bonelli says. "So, you take that and multiply it by the number of folks and even businesses and municipalities that have had burst pipes as a result of frigid temperatures and you're talking some major dollars."
Other damaging elements of the storm included ice dams and strong winds. Bonelli says her group's estimate does not include all insurance providers nor all damage. So the storm's the real cost is even higher.

While winter weather has been mild for the past few years, Bonelli says this year's storms will be taken into consideration when insurance companies set future premiums.
---
---
Stories with Recent Comments