For several years, Tuscarawas County's heroin problem was a well-kept secret in the close-knit towns of Dover and New Philadelphia. That all changed in 2005, when Zach Davis died from a heroin overdose.

"He was very creative, he was adventurous. He loved music; he loved art. And he really loved life. And the drugs just drained it from him," says his mother, Anita Davis.

Davis found her son dead near his cottage on the grounds of family's sprawling Breitenbach winery outside Dover. He was 24 and had been abusing heroin for five years. His was the first of about a dozen heroin deaths in the county over the last decade – putting the drug and his prominent family in the spotlight.

A free spirit full of energy
Photos of Zach show his arms proudly around his mother and two younger brothers, flashing a wide smile. He was a free spirit with endless energy, always on his skateboard or snowboard, playing guitar and drawing.

That energy, however, turned into mischief – and more -- in middle school. His school pressed charges after he put a smoke bomb in the library. Anita Davis says that began a deep depression. He spent time in programs for troubled teens and started smoking marijuana, downing cough syrup and sniffing White Out. At one point he stole a car and ran away to Arkansas.

His drug use escalated to cocaine and ecstasy. Anita Davis says the family pressed charges when he stole money from his grandmother.

After serving a year in a juvenile lockup, he wanted to turn his life around. He enrolled in the Art Institute of Pittsburgh. But at 19, he was in a serious car accident and was prescribed the painkiller OxyContin. Davis says shortly after, heroin consumed his life. A year before his death, he was busted with 39 bags of the drug on him.

Desperately looking for help
Over the years, the family desperately sought help for Zach, enrolling him in five different drug rehabs from Canton to California, spending $60,000. He walked away from each one. "He stayed there maybe two weeks and then left. And then relapsed. And then did it all again," Davis says.


Davis says a major problem with getting her son help then was that she couldn't stay involved his treatment. Tuscarawas County has no heroin detoxification or in-patient treatment programs. The closest one is through the Canton Crisis Center about 20 miles north, but it often has a waiting list.

Davis says at her son's calling hours, she realized she had to act. "A lot of his friends were there. And I thought, 'Oh these guys are going to know and it's going to make a difference in their lives [and] they're going to quit using drugs because they see what it does.' And then it wasn't. And I just thought, there's got to be something more."
A pathway to wellness
Anita Davis spent the last several years getting the Pathway to Wellness Center opened in New Philadelphia. It's a five-bed treatment facility for men battling addictions from alcohol to heroin. She partnered with the Tuscarawas County Homeless Shelter on the project, after seeing addicts cycle in and out.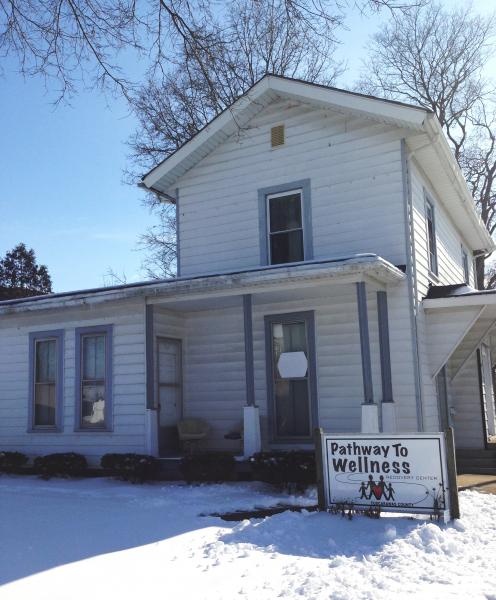 Pathway to Wellness runs almost entirely on donations -- even the residential house where it's located was donated by a local doctor. Manager Dave Marsh says unlike most 30- or 90-day rehab centers, Pathway requires that men stay in the facility for an entire year, completely free of charge.

"They'll be in a place where they'll flatten out. And the depression will set in," Marsh says. "If you can't get them past that hump, they're more than likely to go out and use again because that's where you get all your happy thoughts…is from your serotonin and dopamine. So that's why we really like the year-long program."
The facility is taking an approach to addiction that many urban Northeast Ohio counties are trying: Better coordination: getting the courts, treatment facilities and hospitals, law enforcement and families all working together.

"Instead of one person just doing all the pushing, we can just little nudge here and a little [there]. And I think it's easier to take in for the guys trying to deal with this problem. They're seeing the connection in the community and plus it shows them that the community is interested in them," Marsh says.
Looking for a commitment to treatment
Pathway to Wellness does not take in addicts who need to detox -- they still need to go elsewhere to do that. Director Calvin White says that's when it's up to an individual to commit to treatment.

"Somebody has to want to change. We do take folks who are involved in the court system. But we screen out those who don't seem to be ready to make the differences that they need to make."
Inspiration on the walls
Anita Davis wells up with tears when she walks through the Pathway house. Two of her son Zach's drawings hang on a common area wall in memoriam and serve as inspiration for the residents. One features a hand, dripping in blood with a crescent moon and flying birds. Etched around it are the words "hurt" "change" and "different." Another, features a man's dangling, decapitated body with a passage Zach wrote beside it. It begins, "All the time I try and it always seems like there is something trying to hold me back."
Davis isn't sure whether Pathway would have helped her son get clean if it had existed 10 years ago. But she says having the opportunity to save the lives of other addicts in her community is something she felt compelled to do.

"I could just go on with my life and sometimes I think it would be easier to do it that way. But I just really think Zachary would want that -- to talk about it and to help other people."

A continued outreach
Davis has also spoken to more than 10,000 students in Tuscarawas and Stark county school districts, sharing Zach's story. Her family has also paid for giant billboard along I-77 in Dover. It proclaims: "Say Nope to Dope."
She acknowledges that a five-bed facility and a billboard won't help every addict in her community or stop every kid from using heroin, but it's a start that she feels her son never had. Pathway to Wellness is currently looking to buy property next door and continue to grow.